Keenetic routers are designed to connect your house or flat to the Internet. They integrate your home computer equipment into a network and allow you to access the Internet simultaneously from multiple devices — tablets, smartphones, laptops, or desktops. With a router, you can connect Smart TVs to the Internet and arrange access to IPTV, digital telephony, and other value-added services.
A Keenetic router can be connected to your ISP (and connects your house to the Internet)
via a dedicated Ethernet line,
via a mobile broadband network and 3G/4G/LTE USB modem,
via a telephone or ADSL/VDSL leased line,
via a PON terminal or modem with an Ethernet port provided by your ISP,
via a fibre optic cable using an SFP Gigabit Ethernet module,
as well as via an operator's or private Wi-Fi hotspot.
There are many models in the Keenetic router line, each with distinctive features.
To answer the question of which model you need,
decide what tasks the router will perform
Answer the following questions for yourself:
How many devices in your home network will be connected to the router? Which ones will be connected by cable, and which ones by Wi-Fi?

Mobile devices in the home network are usually connected via Wi-Fi. At the same time, a cable is recommended to connect a powerful desktop computer, smart TV, NAS network drive, or set-top box for receiving IPTV.



How heavily will the router be used? Is it for simple web browsing, searching information and communication, or for transferring large files, watching high-definition video online, using torrents and a VPN server?

If the load on the router is extensive, we recommend choosing a high-performance model.



Which rooms will you need Wi-Fi Internet access in?

Usually, two antennas in a router are enough to organize a wireless network within a two-room flat to get a good signal in all the rooms.
Remember, the farther away from the access point, the weaker the Wi-Fi signal. The signal level drops significantly when the signal passes through walls. For a good signal, it is desirable to have no more than one concrete wall between the access point and the client device.
Important: Do not try to cover a multi-room or multi-level space with one router. When you need more coverage, add one or more of our Keenetic routers as Wi-Fi Extenders where required. This is the easiest and most effective way to expand your wireless network. Combined into the Keenetic Mesh Wi-Fi System, they form a seamless network throughout your home or office.



Are you planning to use the 5 GHz band for wireless networking?

If you have modern gadgets and devices with the ability to work in a 5 GHz wireless network, we recommend using this frequency band, as it has a freer radio spectrum (due to less use of 5 GHz devices) and more channels, which leads to increased stability and connection speed. You can find details in the article Differences in 2.4 GHz and 5 GHz wireless network.


Do you have wireless devices that support the latest Wi-Fi 6 (802.11ax) standard and want to use it on your network?

Use Wi-Fi AX1800 class models to organize a Wi-Fi System with the support of Wi-Fi 6 (802.11ax). For example, Hero (KN-1011), Hero 4G+ (KN-2311) or Hopper are suitable as the Main Router, while the Sprinter or Voyager Pro models are great as Extenders.



Are you planning to use Internet access via a connection to a mobile broadband operator?

Any Keenetic router with a USB port allows you to connect 3G/4G, LTE, and CDMA modems (from our list of supported) for mobile Internet access. External USB modems must be purchased separately.
Our range of models includes Keenetic Hero 4G+ (KN-2311) and Runner 4G (KN-2211), which have an integrated LTE/4G/3G modem to connect to your mobile Internet. Using these models, you do not need to buy an additional USB modem; it is enough to insert a SIM card of any operator into a special slot on the router.



Do you need a USB port in the router? Do you plan to connect an external drive, flash drive or printer with a USB interface for sharing access to your home network?

A USB port on your router allows you to set up a file server with WebDAV or FTP access from the Internet, a standalone integrated torrent client that works independently of your computer, or a DLNA server for accessing your home media library from devices that support this technology (such as Smart TVs, tablets, or smartphones).


Use the Product Selector on our website
On our website at https://keenetic.com/find-my-keenetic, you will find a questionnaire to help you choose the best model to get the most out of your Internet connection.
Choose a Keenetic router from the catalogue
The catalogue on the Keenetic website provides a complete list of current models from which you can select according to parameters. You can also compare models, find the main features and see technical specifications. You can also choose the models you need from the websites of official Keenetic retailers.
TIP: Note:

— If you plan to use a 3G/4G/LTE USB modem, make sure the model you choose has a USB port and supports it. Here is the list of compatible modems.

— A USB printer (not GDI printer) can be connected to a router's USB port. Here is the list of compatible printers.

— Most routers support dual-band Wi-Fi — operating the access point on two frequency bands, 2.4 and 5 GHz. Nearly all Wi-Fi networks now operate on the 2.4 GHz frequency.
The more devices are working on the same frequency, the more they interfere with each other, severely compromising connection quality. This is especially true in blocks of flats, where there are Wi-Fi devices in almost every flat. The advantage of the 5 GHz frequency is the free radio spectrum, as this frequency is still rarely used, and as a result, there is minimal interference and maximum connection quality. To use the 5 GHz network, your smartphone, tablet, laptop or USB adapter must necessarily support this frequency.

— For high-speed Wi-Fi connections of up to 1733Mbps, use a Keenetic Titan router with an IEEE 802.11ac (MIMO 4x4) access point, while IEEE 802.11ax (MIMO 2x2) access points can achieve a maximum connection speed of 1201Mbps.

— Some models (with a hardware switch on the case) can easily be used for extending the range of an existing Wi-Fi network on another router without running extra cables. All Keenetic routers have the optional Extender Mode for this purpose.
Suppose you choose a high-performance router to connect to the Internet on a data plan of over 100 Mbps. You plan to connect to the router a printer for network printing, an external hard drive for a file server, and mobile devices via Wi-Fi in the 5 GHz band.
Select a router model according to the required parameters. Based on these parameters, the following models have been selected: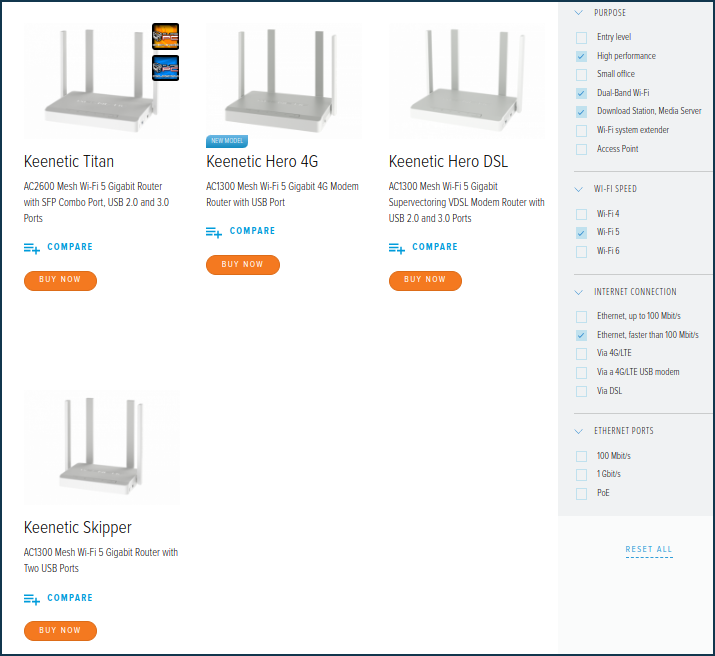 If you are looking for a Wi-Fi router with 3G/4G/LTE mobile Internet connectivity, other models will be chosen: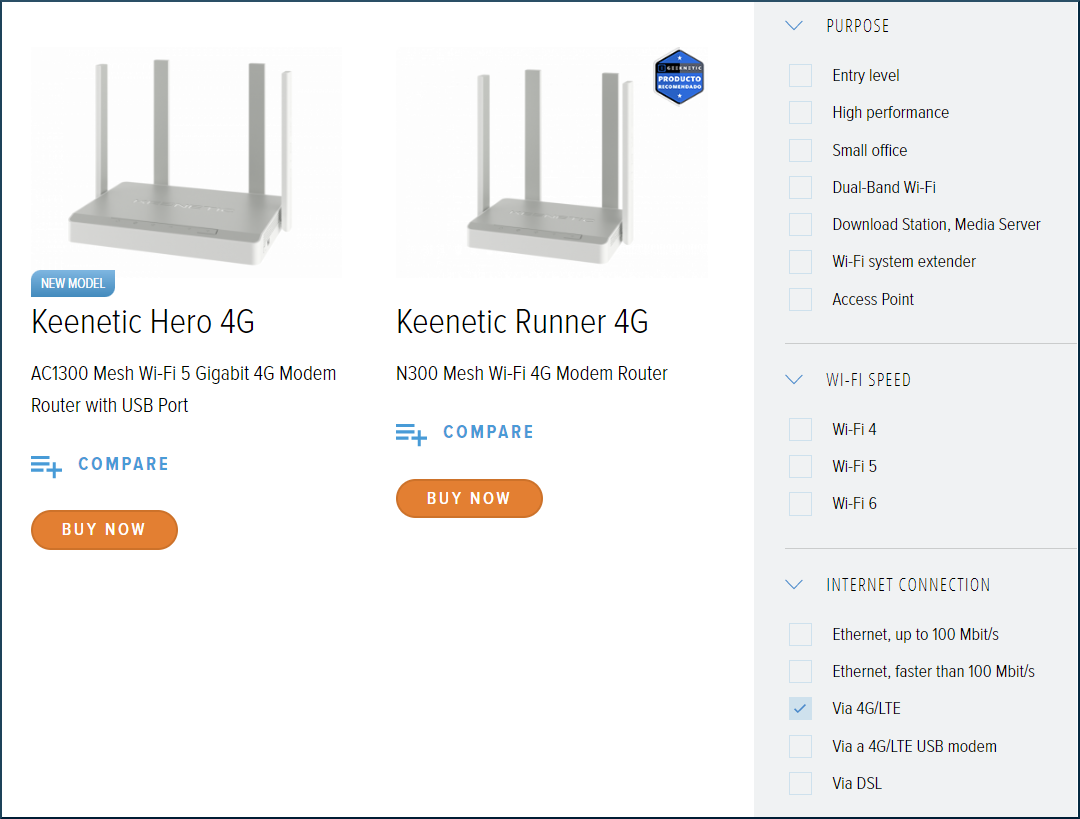 To compare features of selected models, click on Compare.
In the model comparison window that appears, you can select 'Differentiating' to view the differences in parameters visually: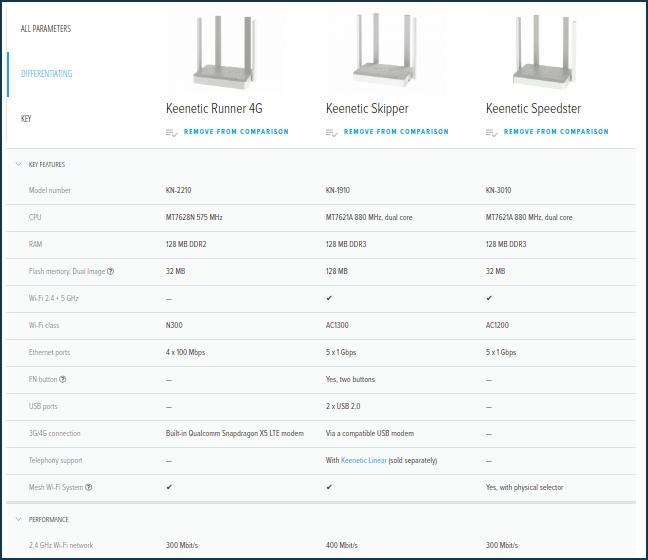 From our example, you can see that the main and fundamental difference with Keenetic Runner 4G is the built-in LTE modem. In contrast, the other models in the comparison can only use an optional external compatible USB modem (purchased separately).
Read the complete list of specifications and features for your chosen model
Did you miss anything? See the router's catalogue page on the website or a list of technical specifications.
Please consult our sales team if you still have questions about the models.