To access the command-line interface of the Keenetic router, you must establish a TELNET connection to the device.
NOTE: Important! If you are using Windows Vista/7/8/10 on your computer, the article 'Enabling TELNET and TFTP services in Windows Vista/7/8/10' provides information on how to enable the TELNET service (in Windows 2000/XP this service is the default).
To create a TELNET connection in Windows, click 'Start - Run...'. In the window that opens, type 'cmd' and click 'OK'.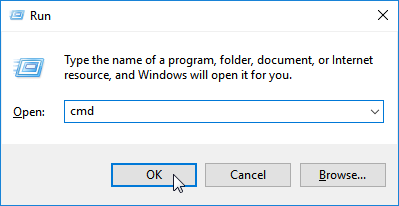 After that, you will see a Windows command prompt window. The default router IP address is 192.168.1.1.
To connect to the CLI (command-line interface) of the router, enter the command:
telnet 192.168.1.1

and press Enter.

You will then be prompted to enter the password to log in to the device settings.
NOTE: Important! To protect the system from unauthorized access, be sure to set the administrator password on the router.
After successful authentication, you will see the command-line interface (CLI) of your Keenetic: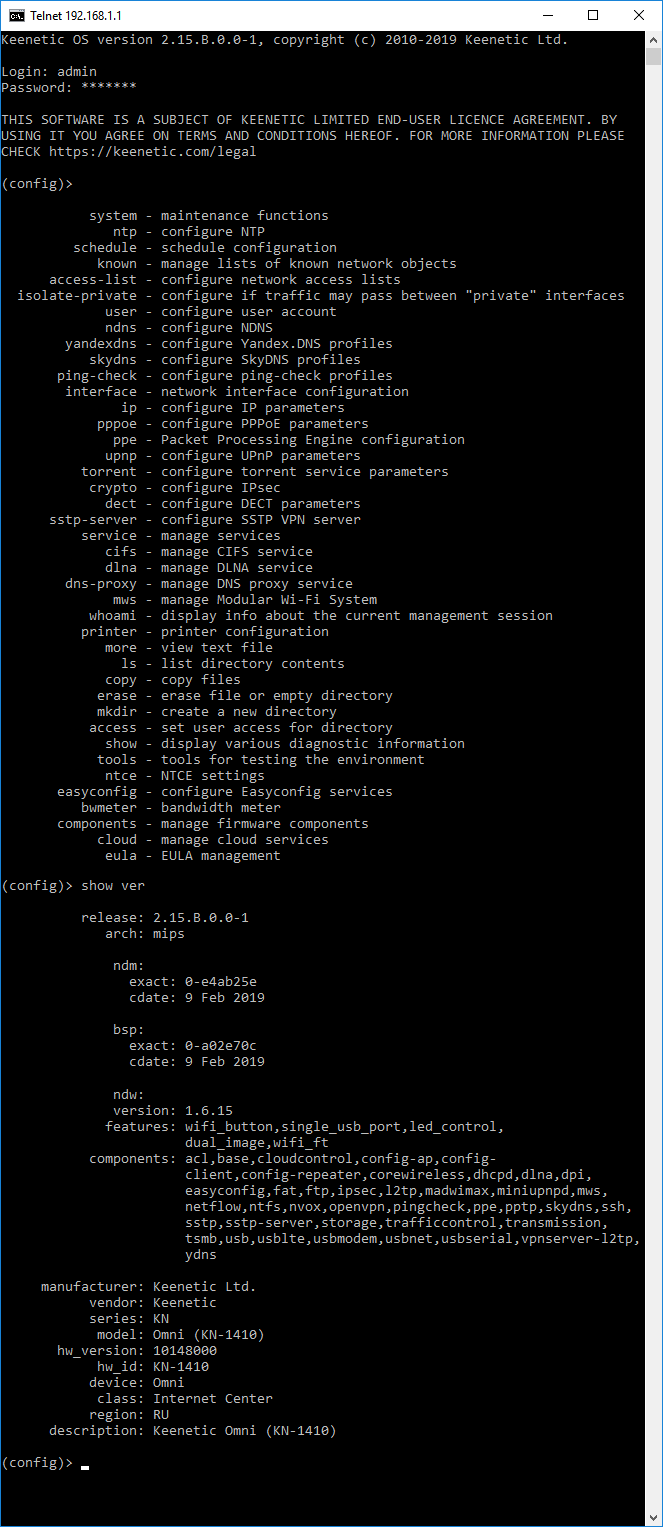 For easy use of the router's command-line interface, use the Tab key. For example, if you press the Tab key in the command prompt (config)>, you will see a set of available commands on the current level. In order to make the command input process as convenient as possible, the command-line interface has the autocomplete function for commands and parameters, telling the user which commands are available on the current nesting level.
Use the command to exit the command-line interface (CLI):
exit
Detailed information on working with the command-line interface can be found in the Command Reference Guide. It is available on our website in the Download Files section by selecting your Keenetic model.
In addition to the built-in TELNET service in Windows, you can use any other terminal program, such as PuTTY.
TIP: Tip: Starting with KeeneticOS 2.12, we have added an SSH (Secure Shell) server, which allows you to safely connect to the command line of the router. Detailed information can be found in the instruction manual: 'Remote access to CLI of Keenetic via SSH'.