Some ISPs restrict Internet access to only one device by registering its MAC address. Usually, a user gives the ISP the MAC address of his computer's network adapter. In this case, the Internet can only be accessed from this MAC address.
If that is actually the case and you know the MAC address that's registered with your ISP - it may be the address of your previous router device, or your PC's network adapter, or MAC is just printed out in the contract, it is then possible to substitute the factory MAC of your Keenetic with the necessary MAC address that your ISP would accept.
NOTE: Important! If your contract with the ISP includes the MAC address of another device, such as your computer, we recommend informing ISP service of the WAN MAC address of the router. Keenetic WAN MAC is printed on the device label. That must be done before connecting the Ethernet line cable.
Instead, to spoof the MAC address of your Keenetic device with the one already registered, please follow the below step.
On the 'Ethernet' page, under 'IP and DNS settings', please select one of the options in the MAC Address field:
'By Default' - the default factory setting, the WAN MAC address specified on the product label will be used;
'Get from your PC' - the WAN MAC address of your router will change to the MAC address of the Network Interface Card of the computer from which the web interface is opened. The 'Get from your PC' option is only possible when your computer is connected via Ethernet cable;
'Manual' - manually specify the MAC address to be used as the WAN MAC address.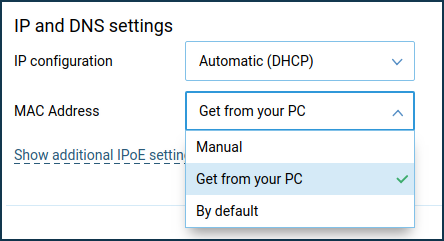 You can find the Windows PC's MAC address by following the instructions 'How to check the network adapter settings in Windows'.