It is recommended to update your Keenetic router's OS through the web interface if an Internet connection is available. After the update, your device will have the most current version of the OS installed. For a detailed KeeneticOS update procedure, please refer to the Updating the KeeneticOS from the web interface instruction.
Below is an example of a manual update of the Keenetic operating system via a pre-downloaded system file without connecting the router to the Internet (i.e. offline).
All the OS system files for different models of Keenetic routers are located on our website in the Download Center section.
Select your device model, the 'Download files' page for the selected model will appear. There you will find system files with the bin extension in zip archives.
NOTE: Important! The 'Download Center' section contains KeeneticOS files with the recommended set of components. It is possible to change system components after the system update if you have an Internet connection.
To update the KeeneticOS, go to the 'System settings' page. In the 'System files' section, click on 'firmware'.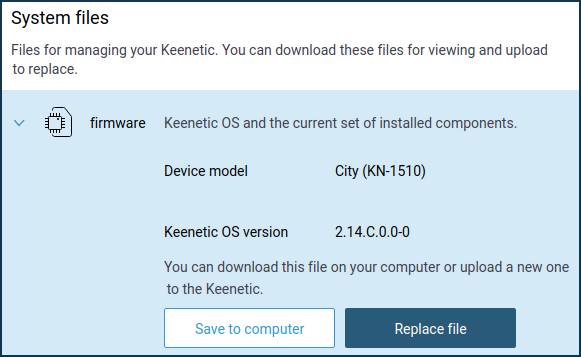 Then click the 'Replace file' button.
In the appeared window, specify the system file's location for your device (file with the extension 'bin'). You must first extract the system file from the zip archive.
The system file will be uploaded to the Keenetic router.

NOTE: Important! Do not turn off the power during the update process!

When the update process is complete, your Keenetic will restart automatically and then be ready for use again. The web interface will be unavailable for approximately 1-2 minutes.
Then, on the 'System dashboard' page, make sure that the OS version has changed. It is shown in the 'About the system' information panel.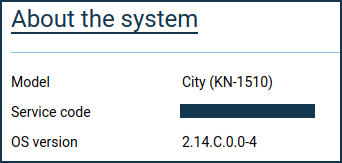 TIP: Note: Any Keenetic router has dual flash memory with active and backup images of KeeneticOS to ensure trouble-free upgrades. The device first downloads, saves and checks the integrity of the software image in the backup section. The Keenetic device will then write the software and reboot with the updated version of KeeneticOS. Internet access will only be briefly interrupted while the unit reboots.
TIP: Tips:

1. If you are unable to install the OS for some reason, please refer to the article Frequently Asked Questions on Component Installation and Upgrading KeeneticOS.

2. You can perform the same procedure from your Apple mobile device. For more information, please refer to the How to update KeeneticOS through a system file from iPhone/iPad? instruction.