PPTP and L2TP are often used in ISP networks. The main advantage of these protocols is the security of data transmission to the Internet.
Below we will consider an example of setting up a connection via PPTP protocol as the most common one. The L2TP connection is configured in the same way.
TIP: When connecting DSL models to an Ethernet provider, refer to the article 'Connecting Keenetic DSL routers to the Internet via Ethernet'.
On the 'Ethernet' page in the 'ISP authentication (PPPoE / PPTP / L2TP)' section, in the 'Type (protocol)' field, specify the value 'PPTP' or 'L2TP', depending on what type of connection you want to configure. In the 'Server address' field, enter the IP address or domain name of the PPTP or L2TP server. In the 'Username' and 'Password' fields, enter the login and password provided by your ISP for connecting to the Internet, respectively.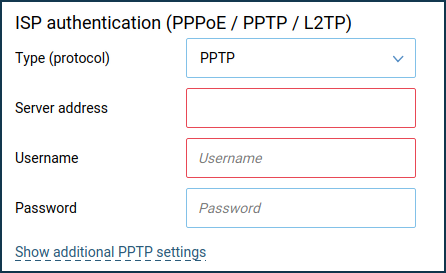 Click on 'Show additional PPTP settings' to display fields with advanced settings.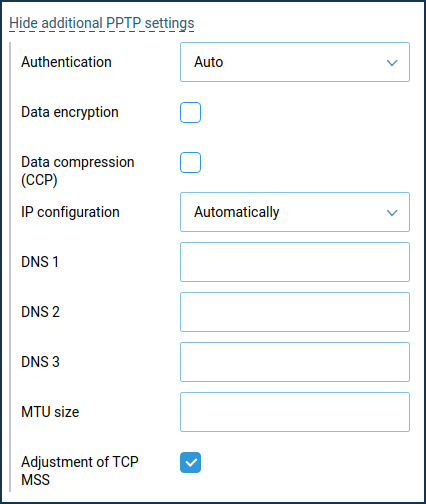 If the PPTP connection uses data encryption (MPPE), enable the corresponding option.
Leave the 'IP configuration' field set to 'Automatic' if the IP address for Internet access is assigned automatically by your ISP.
If your ISP has provided you with a fixed (static) IP address, specify 'Manual' in the 'IP configuration' field and specify the IP address and gateway address in the fields 'IP address' and 'Remote IP' that appear. For example: