A Keenetic router allows you to connect to multiple ISPs simultaneously (called Multi-WAN) and enable continuous Internet availability verification (Ping Check). Ping Check detects whether an Internet connection is available by polling a given network host. If the primary ISP's network fails, the router will automatically connect to the backup channel.
You can configure Internet availability checks for wired IPoE connections (including the ones with the authentication at the ISP: PPPoE, PPTP and L2TP), as well as WISP, ADSL / VDSL. But especially the Ping Check feature will be helpful if you have an Internet connection via a 3G/4G USB modem.
NOTE: Important! Keenetic routers can manage the power supply of USB modems without user assistance. The fact is that many modern modems are standalone devices that launch and operate separately from the router. On the one hand, this is good. But on the other hand, many compact USB modems are designed primarily for episodic work in laptops, but not for round-the-clock work, on which they can fail or hang. With the help of the Ping Check function, your Keenetic will find out by itself that the Internet is not available for some reason and will automatically hard reboot the modem for the connection to appear again.

Internet availability check only works for IPv4 traffic. Support for IPv6 traffic will be included in KeeneticOS version 4.0.
You do not need to care about configuring Ping Check. All you need to do is connect the supported USB modem to the Keenetic and ensure that it is detected and ready for operation (this can be done in the web interface on the 'System Monitor' page). The Ping Check function is activated automatically when a USB modem is connected to the router. It will use the 'Default' ('Automatic') mode as a check method.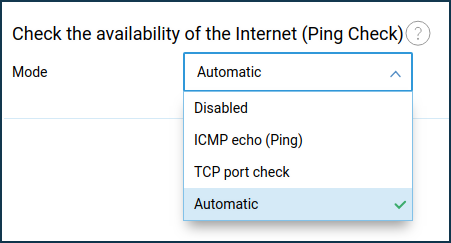 This mode is designed to simplify the Ping Check function setup for ordinary users (those who do not want to learn about the additional parameters). It checks the availability of hosts google.com, facebook.com, yahoo.com on the port TCP/443 (HTTPS). ISPs do not block this port as a rule. If there is no connection to the hosts, the router will try to reconnect by restarting the modem interface, or if there is a backup connection, it will automatically reconnect to the backup channel.
In addition to the default functionality, it is possible to configure the Ping Check function by yourself. In addition to 'Automatic' mode, three other options are available: 'ICMP echo (Ping)', 'TCP/TLS port check' and 'TCP port check'. For details, refer to the instruction Ping Check fine-tuning.