Sometimes you may need to restore your Keenetic to its factory defaults, i.e. perform a reset of the user settings to the factory defaults. For example, if you want to reconfigure your router (delete all user settings) or if you have lost/forgotten your password to access the web interface.
NOTE: Important! The reset will delete all user settings.
TIP: Tip: We recommend you to temporarily disconnect all network cables from the Keenetic to perform a correct reset.
Use the following ways to restore the factory settings:
1. Web interface.
Go to the 'General system settings' page. In the 'System reboot' section, you will see the 'Reset all settings' button. Click it to delete all user settings.
TIP: Tip: Save the settings file (configuration file startup-config) before you perform a reset as instructed in 'Saving the startup-config configuration file'.
2. 'Reset' button.
This way of restoring the factory settings can be used when you cannot connect to the router's web interface (for example, if you cannot open a web interface page or you have forgotten your password).
The device has a 'Reset' button on it. You can find it on the same side of the Keenetic where the rest of the ports are placed (the location of the button depends on the model).


During the reset process, it is important to pay attention on the 'Status' indicator (leftmost), which shows the device state.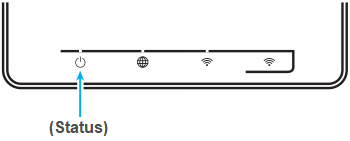 To reset your Keenetic to the factory defaults proceed as follows:
Turn on the router's power and wait for the device to boot fully.
Press the 'Reset' button using a sharpened thin object (e.g. a paperclip) and hold it in until the 'Status' indicator on the front panel starts flashing frequently (usually it takes 10 to 12 seconds) and then release the button.
After that, the Keenetic will restart with the default settings (factory defaults).
NOTE: Important! While holding down the 'Reset' button, it is important to wait until the 'Status' LED starts flashing frequently. If you release the button before this moment, Keenetic will just reboot without resetting configuration.
Do not hold down the 'Reset' button for more than 30 seconds, as this will bring the device into emergency recovery mode during reboot.