If you need to transfer the registered KeenDNS domain name from one Keenetic router to another, follow these steps:
1. When you try to enter a name previously registered on another Keenetic, you will be notified that the name is occupied.

2. To transfer a domain name, you need to copy a special transfer code on the first Keenetic, which allows you to transfer the domain name assigned to this router to another Keenetic.
NOTE: Important! If you want to delete a registered name (e.g., a device has broken down), you should prepare information to help identify you as the owner and contact Technical Support with the reason why you want to delete the registered domain name. Example information: Service tag and last time you connected to the Internet on the device, or the number assigned by the Service centre.
3. On the 'Domain name' page, the 'KeenDNS' tab, click on the 'Obtain a transfer code' link. A transfer code will be created. The code is valid for seven days. Click on the link 'Copy to clipboard' and enter the received code in the Keenetic to which you want to give the domain name.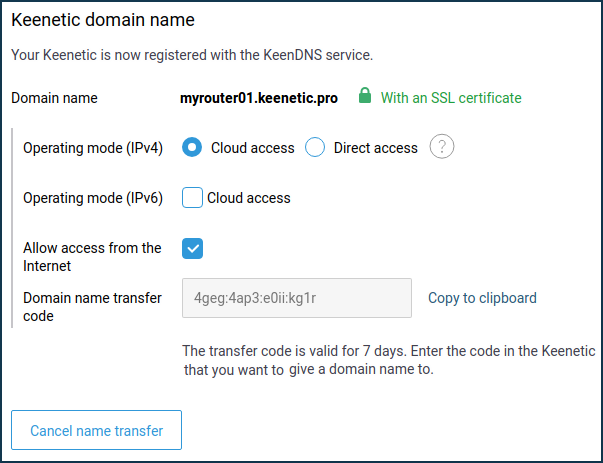 4. On the second Keenetic, select the occupied domain name, paste the copied code into the appeared 'Transfer code' field and press 'Save'.
The domain name will then be transferred to the second Keenetic router.