AdGuard DNS free domain name service is an alternative way to block ads, protect personal data, enable secure browser search and protect children from adult content. Internet filter provides the necessary minimum protection against advertising, tracking and phishing.
In AdGuard DNS there are 2 modes (policies) that determine access to a particular category of sites:
'No Ads' — AdGuard DNS servers are used to block ads, tracking and phishing.
'Family-friendly' — AdGuard DNS servers are used to block ads, tracking and phishing + block adult sites + safe search.
'No Protection' — no traffic filtering is provided.
You may find more information about the work of AdGuard DNS on the adguard.com site.
NOTE: Important! The SafeDNS and AdGuard DNS content filtering services cannot work simultaneously. Only one of the services can be used.
Before setting up the Internet filter, register your devices according to the instruction 'Connected devices registration'.
Now select 'AdGuard DNS' in the 'Service' field on the 'Internet safety' page.

The 'Assigment of protection policies to devices' section will appear. Configuring in this section comes down to assigning the protection policies described above to regular home network devices (registered on your Keenetic) and to devices that appear periodically (Guest network and unregistered devices).
For example, we will assign the 'Family-friendly' protection policy to three registered devices, and assign the 'No protection' policy to all other devices.
In the 'Default policy' field you can specify a policy that will be applied to all unregistered devices, including those connected to the Guest segment.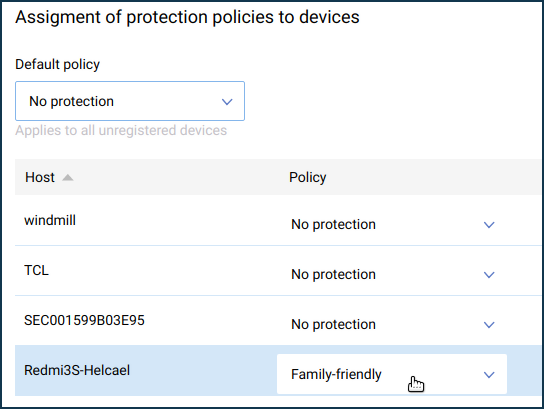 Now check the operation of the Internet filter and advertising filtering on websites.
From a registered device through a web browser, we will try to access a resource that may contain prohibited content: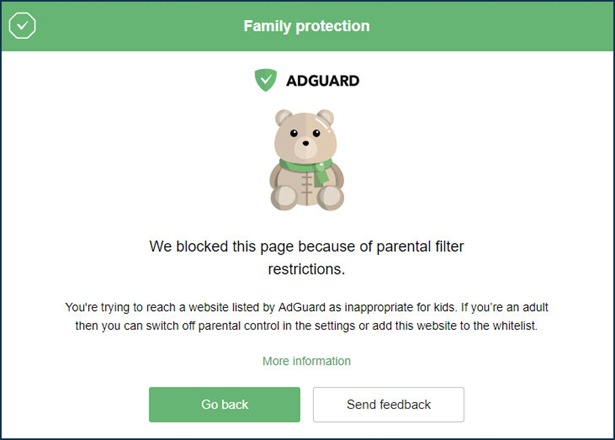 Access to this resource will be blocked and the corresponding message will be displayed.
TIP: Note: If AdGuard does not block ads, breaks a website or application, please send a complaint directly to the developers at support@adguard.com

Currently, there is no support for Internet safety service on IPv6 protocol. When the 'IPv6' component is installed, individual policies don't work. If for some reason your site filtering does not work after you turn on the Internet safety service, check if the Keenetic's operating system has an 'IPv6' component installed. If you are not using an IPv6 connection, remove the component to ensure that the Internet safety service works properly. Later on, the operation of Internet safety services with IPv6 protocol will be improved.