You can access remote network resources by connecting to a VPN server from your Keenetic router via the L2TP over IPSec (L2TP/IPSec) protocol.
You don't have to worry about the confidentiality of file server data, IP telephony, or video surveillance streams in such a tunnel. L2TP/IPSec provides absolutely secure access to the home network from a smartphone, tablet or computer with minimal configuration: Android, iOS and Windows have a convenient built-in client for this type of VPN. Also, many Keenetic models offer hardware acceleration of data transfer over L2TP over IPsec.
To configure the L2TP/IPsec connection, you must install the 'IKEv1/IPsec and IKEv2/IPsec VPN servers, L2TP/IPsec VPN client, Site-to-site IPsec VPN' system component. You can do this on the 'General system settings' page in the 'Updates and component options' section by clicking 'Component options'.

To set up an L2TP/IPsec connection, go to the 'Other connections' page and click 'Create connection' in the 'VPN connections' section. In the 'VPN connection settings' window, select 'L2TP/IPsec' in the 'Type (protocol)' field.
Then enter the name of the connection in the 'Connection name' field, and in the 'Server Address' field, enter the server's domain name or IP address. In the 'Username' and 'Password' fields, specify the account's data that is allowed to access the local network via L2TP/IPsec. In the 'Secret key' field specify the previously agreed key, which is installed on the server.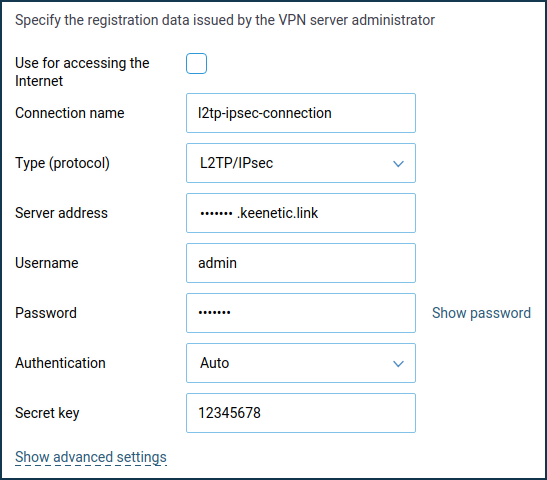 Click ' Show advanced settings' to configure the IP settings, work schedule, or the interface through which the connection should work.
Once the connection is established, put the switch in the 'On' state.
The same page will also show the status of the connection.

To test the connection, access a resource on the remote network or ping the host on the remote network (server local network) from the client computer.
L2TP/IPsec server configuration in Keenetic is described in detail in the article 'L2TP/IPsec VPN server'.
TIP: Tip: If you want to use this connection to access the Internet, give it the highest priority. You will find information about the priorities in the article 'Connection priorities'.