Setting up a 5 GHz Wi-Fi wireless network is available only in Keenetic models that support dual-band Wi-Fi 802.11 n/ac (2.4 + 5 GHz frequency range).
NOTE: Important! Not all mobile devices can connect to a 5 GHz Wi-Fi network. Only the devices that support 5 GHz band can connect. If your device does not support 5 GHz band, than it can connect to 2.4 GHz band only. Information about configuring 2.4 GHz Wi-Fi network you can find here '2.4 GHz Wi-Fi network'.
As soon as you first time turn on the router it deploys the most secure wireless dual-band (2.4 + 5 GHz) network based on WPA2 standard. You can use this network to connect laptops, smartphones, tablets and other wireless devices. For guest devices the separate Wi-Fi network is considered which have only Internet access without access to local network. The optimal operation channel is selected automatically based on periodic analysis of the radio environment. 
In most cases, you do not need to make any additional settings of the main Wi-Fi access point. It is enough to know the username and password to connect to the wireless network (it indicated on the sticker, which is located on the bottom panel of the Keenetic case).
If necessary, you can configure the wireless network settings yourself. 
On the 'Home network' page, you can change the wireless network name, password, and other settings in the '5 GHz Wireless network' section. If you want your wireless network to work only during certain hours, set up a schedule for it. 5 GHz band Wi-fi network settings almost the same with 2.4 GHz band settings, except some parameters.
To change the default network name and password, please refer to the article 'Changing the Wi-Fi network name and password'.
NOTE: Important! Using an open (unprotected) network is not secure.
To set additional parameters of Wi-fi network click on 'Advanced setings' link.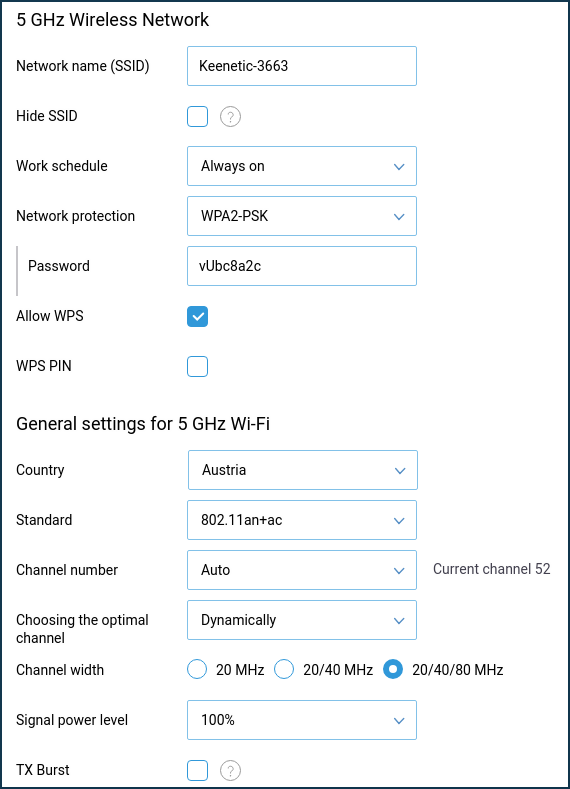 In 'General settings for 2.4 GHz Wi-Fi' use 'Country' line to manually choose the country in which you plan to use the router.
The 'Channel' is set to 'Auto' by default. In this case, the router automatically selects the optimal working channel based on periodic analysis of the radio environment.
If necessary, you can manually set the channel number (from 36 to 165) in which the 5 GHz access point will operate. In the 5 GHz band 17 working channels are available. We recommend that you select a channel with a lower number between 36 and 64 (the lower the frequency, the better the signal penetration).
The 'Choosing the optimal channel' is pre-set to 'At start' value, but you can select 'Every 6 hours', 'Every 12 hours', 'Every 24 hours' or 'Dynamic' when the optimal channel is selected once per hour, if minimal traffic condition is met.
TIP: Note: In Keenetic Giga (KN-1010) and Keenetic Ultra (KN-1810) routers you can enable 256-QAM modulation and support of the Beamforming and MU-MIMO technologies on wireless network configuration page.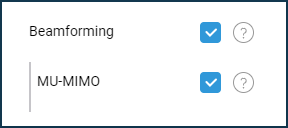 For 5 GHz band the Band steering feature is available (it's disabled by default). Band Steering selects the optimal Wi-fi band (2.4 or 5 GHz) for each dual-band client in your network.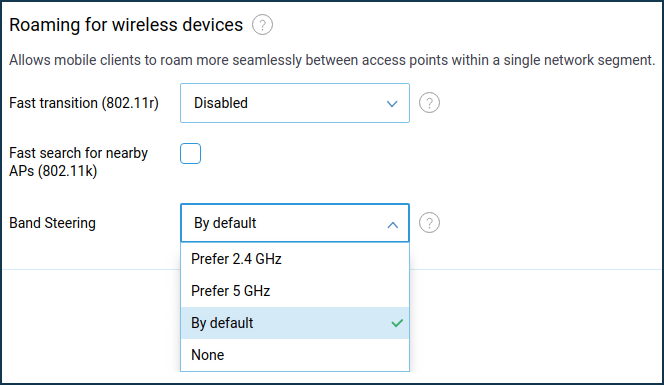 NOTE: Important! The names of Wi-Fi 2.4 GHz and 5 GHz networks should be the same to make Band Steering operational.
TIP: Tip: Routers use the same network name both for 2.4 and 5 GHz bands by default. If dual band mobile devices often switchover between 5 GHz and 2.4 GHz it might create inconvenience. So we recommend to set different names to 2.4 GHz network and 5 GHz network. And then connect clients to the desired network.