In your Keenetic device, you can share USB drives and printers with Windows computers. Keenetic Operating System supports SMB/CIFS protocols (SMB v1/2/3).
For the Windows network server to work on your Keenetic, the 'SMB file and printer sharing' system component must be installed. You can do this on the 'General system settings' page in the 'Component options' section by clicking on 'Component options'.

To configure the server, go to the 'Applications' page. Here you will see the 'SMB server' panel. By default, the 'SMB server' is enabled. Click on the 'SMB server' link.

In the 'Basic settings' section of the appeared window, the 'Auto-mount new USB drives' option is enabled by default. This means that a newly plugged-in drive will be automatically added to the system.
In the 'Server name' field, you can change the name used to identify your Keenetic in the local network (NetBIOS name). If you want your Keenetic to be visible in a Network environment, you must specify the group's name in which all other computers on your home network are located in the 'Workgroup' field.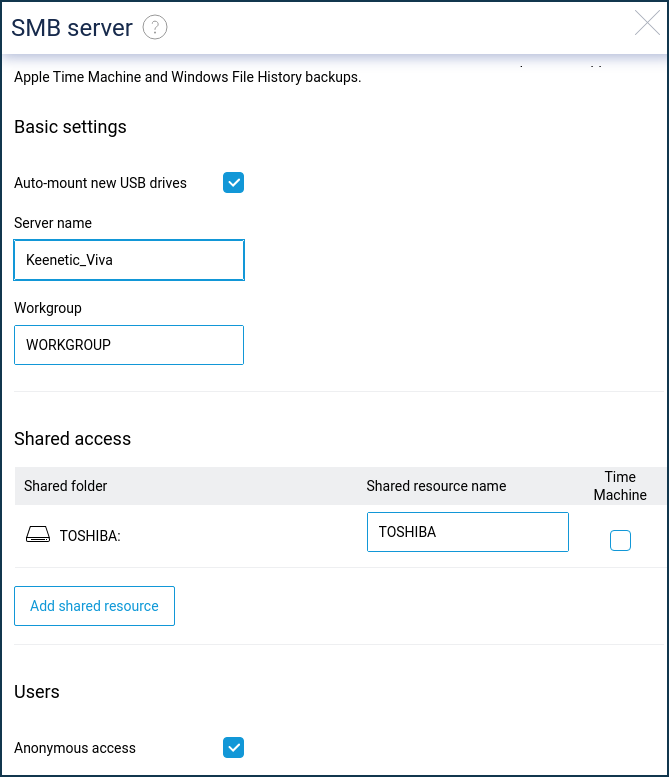 Add folders that you want to share with other users in the 'Add shared resource' field. For more information about setting up a folder share, see Connecting a USB drive.
'Anonymous access' option is enabled by default in the 'Users' section. Access to the file server from computers and mobile devices running Android, Microsoft Windows, Apple OS X, and iOS is open to all home network users without authorization. You can change this policy and add the 'Folder permission control' component to your Keenetic's operating system to separate user access to folders. You will find more information in this article: Folder permission control on a USB drive.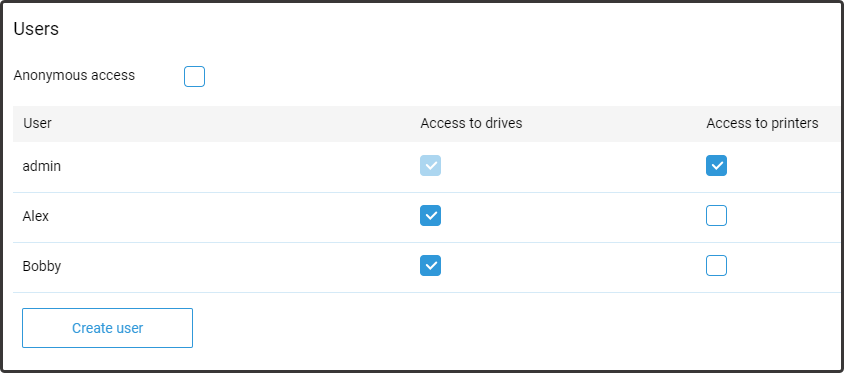 Now the configuration of Keenetic is completed.
Now home network users will be able to share USB drives and printers (with 'CIFS' connection type). You can use the local IP address of your Keenetic (by default, it's \\192.168.1.1) or its NetBIOS name (the name specified in the 'Server name' field) for access.

Refer to the following instructions for details:
TIP: Tips:
1. To quickly navigate to a network share folder, you can connect it as a network drive so that it appears as a normal logical drive in Explorer or a file manager. For this setup, refer to the How to create a network drive in Windows to access a USB drive connected to a router article.

2. If the Windows Network (Network Explorer) does not show Windows computers, refer to the instructions for more information on What to do if the USB drive cannot be accessed over the network or the router name does not appear on the Windows network.