Keenetic routers support the AFP (Apple File Protocol) protocol. This allows you to access files on a USB drive from the Mac OS X operating system.
To configure the server, be sure to install the 'AFP file sharing' component. You can do this on the 'General system settings' page in the 'Component options' section by clicking on the 'Component options' button.

Then go to the 'Applications' page. Here you will see the 'AFP server' panel. Click the 'AFP server' link to set up a file server and share it.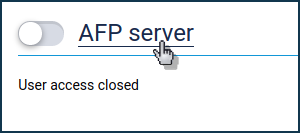 In the 'Basic settings' section, enable the 'Auto-mount new USB drives' option. This means that the connected drive will be automatically added to the system.
In the 'Server name' field, you can change the name used to identify the router in the local network.
To set up and add a shared folder, click 'Add shared resource'. A window will be opened with a built-in file browser, where you need to specify a folder on the USB drive that will be shared and then click 'Select'.
The 'Shared resource name' field will be automatically set to the shared folder name, but you can change the name if you like.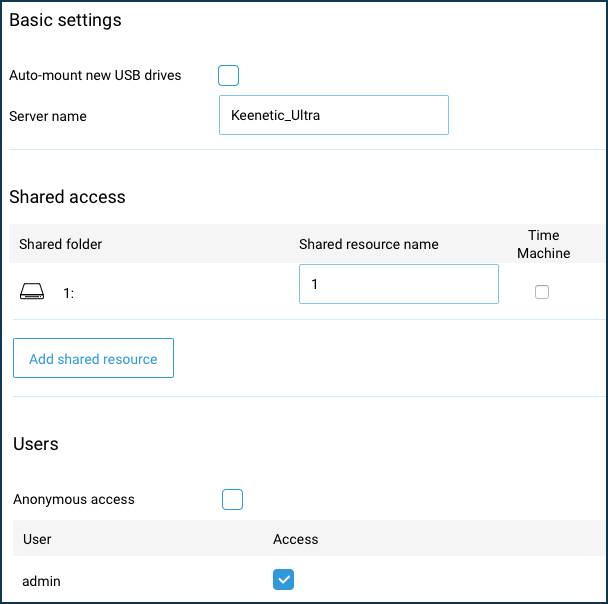 In the 'Users' section, select the users you want to access the USB drive files or create user accounts with access rights to the drives by clicking 'Add User'. See Folder permission control on a USB drive for more information about restricting user access rights to folders.
If necessary, you can enable the 'Anonymous access' option. In this case, all users on the local network will have full access rights without authorization.
After configuring the AFP server, set the switch to the 'Enabled' state.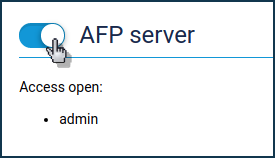 Then go to the Mac OS settings.
From the top row, select 'Go' and then 'Connect to Server'.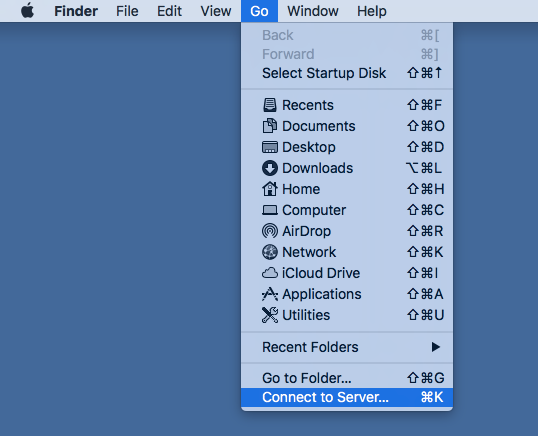 In the window that opens, enter the local network address of the Keenetic router in the 'Server Address' field, and click 'Connect'. The address format is afp://ip (in our example, it is afp://192.168.18.1).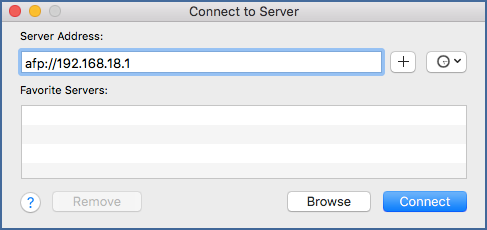 Enter the name and password of the Keenetic account that you want to grant access to, and click 'Connect'.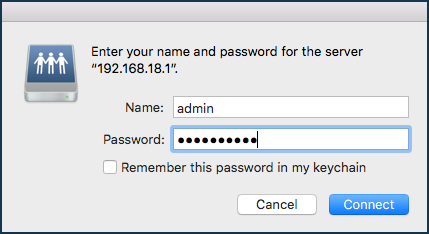 Once connected, the Finder File Manager window will open, where you will see the connected share with the name previously specified in the router.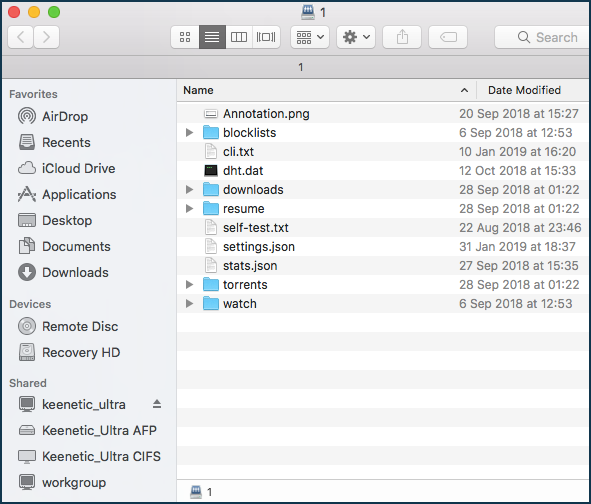 If necessary, you can use the Time Machine network backup feature for Apple computers running Mac OS X 10.5 or later. For more information on setting up, see Time Machine backup support.