Keenetic devices have an option to manage the LED indicators. You can turn off all the LEDs on the device or set them to turn off on a schedule (for example, to prevent the LEDs from working at night).
You can control the LEDs using the device web interface, the command-line interface (CLI), or a button on the case.
1. The web interface, on the 'General system settings' page, in the 'LED indicators' section, provides the settings for controlling the LEDs located on the case of the device (this feature has been added in KeeneticOS 3.6).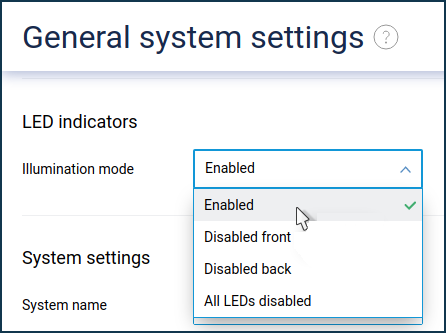 The following values are available for the 'Illumination mode' parameter:
Enabled
Disabled front
Disabled back
All LEDs disabled
If necessary, you can set the LEDs (indicators) to turn off according to the specified time. To do this, refer to the Disabling all LEDs on the schedule manual.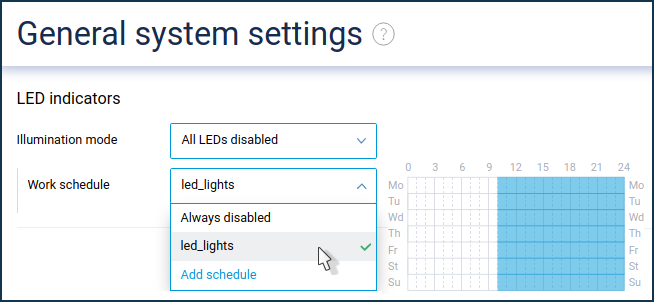 2. In the web interface, on the 'General system settings' page, under the 'The functions of Keenetic buttons and indicators' section, you can assign the 'Indicators — LED on/off switch' action to the Wi-Fi or FN button.

NOTE: Important! The first time the button is pressed, only the LEDs on the front panel are turned off. The second time only the LEDs on the back panel, and the third time all the LEDs are turned off. The fourth time all the LEDs are turned back on, i.e. the state when all the LEDs are lit.
After restarting the device, the light indication is restored to the factory preset when all the indicators are lit.
3. The following commands can be used to disable the indicators via the router's command-line interface (CLI):
system led shutdown front — indicators on the front panel
system led shutdown back — indicators on the back
system led shutdown all — all indicators

This command is used to turn on the LEDs:
system no led shutdown

If you execute the command to save the settings to the device memory after switching off the indicators with the commands above, the LEDs will remain disabled even after rebooting.
system configuration save

4. To configure the indicators to switch off at a specific time, refer to Disabling all LEDs on schedule.
A detailed description of commands and their syntax can be found in the command interface reference guide from the Download Center.
NOTE: Important! If you contact our support team, please inform a consultant that you disabled the light indicators, as it will not be possible to determine whether the device is working properly or not.