KeeneticOS operating system with a set of installed components is stored as a firmware file in Keenetic routers. It can be saved to a computer or any drive and loaded into a device if necessary. It is useful for backing up and recovering a certain version of KeeneticOS.
TIP: Tip: Once you have set up the Keenetic router and made sure that it works correctly, we recommend backing up the operating system file. From now on, you will be able to easily update the versions of KeeneticOS on your router and, if necessary, return to the previous version.
To save the operating system file, go to the 'General system settings' page of the web interface. In the 'System files' section, you can find files used for managing your router.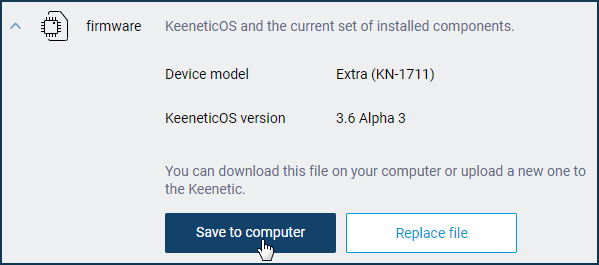 Click on the 'firmware' entry and then the 'Save to computer' button. Your web browser will download the firmware file of the router (a file with a .bin extension). If the Save File window appears, specify the location (the folder where the file will be saved) and click 'Save' or 'OK'. By default, the file name contains the device model and the exact version of the KeeneticOS operating system (for example, KN-1711_preview_3.06.A.3.0-1_firmware.bin).
Using a previously saved backup copy of the firmware file, you can restore a specific version of KeeneticOS. To do this, click the 'Replace file' button and specify the path to the firmware file.
TIP: Tip: In addition to the operating system file, save the startup-config file to your computer to be able to restore the router settings.