The Orbiter Pro and Voyager Pro can be powered by a power adapter or Power over Ethernet (PoE).
The Orbiter Pro router supports IEEE 802.3af/at (PoE/PoE+), and the Voyager Pro supports IEEE 802.3at (PoE+).
To power a device via PoE, you'll need to connect an Ethernet cable from an IEEE 802.3af/at-compliant power supply (PSE, such as a PoE network switch or PoE injector) to the blue '0 - PoE' port (this is where the router/AP can receive PoE power). If both PoE and power adapter are available, the adapter will take priority.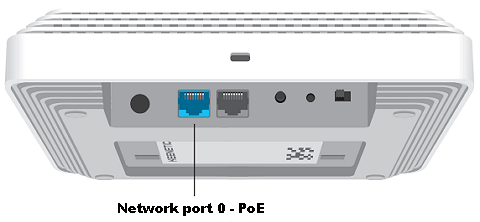 NOTE: Important! The Orbiter Pro and Voyager Pro models do not support Passive PoE and should not be connected using this technology to avoid damage.

PoE (Power over Ethernet) technology in brief
PoE is a technology that allows electrical power to be transmitted to a remote client device along with data over a standard twisted-pair cable in an Ethernet network (typically a category 5e cable with 8P8C connectors). This technology allows power to be supplied to Wi-Fi access points, IP cameras, IP phones, routers, network switches and other devices where an electric cable or 220 V socket cannot be installed.
PoE technology is regulated by the IEEE 802.3af-2003, IEEE 802.3at-2009 (PoE+) and IEEE 802.3bt-2018 (PoE++) standards.
Power Source or Power Sourcing Equipment (PSE) can be Ethernet switches and other PoE-enabled network equipment that can supply power to network devices over an Ethernet cable. The PSE can operate in both Endspan and Midspan configurations.
Powered Device (PD) clients may include Wi-Fi access points, routers, IP phones, IP cameras, various sensors and other peripherals capable of receiving power over Ethernet.
An Endspan power configuration is typically a network switch or injector that provides power from the end of a cabling link directly to a PoE consumer.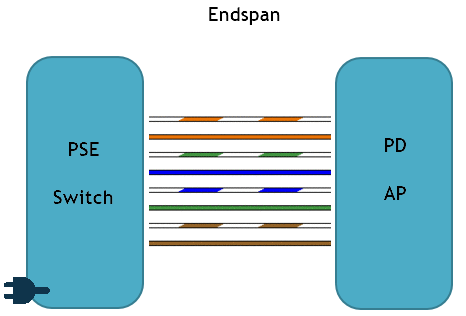 There is also a Midspan configuration that uses intermediate power supplies - typically PoE injectors (adapters) that provide power to PoE consumers from the middle of a cabling link, and are located between the network switch and the PD device. Injectors are used when PoE is needed on the individual lines of a network. They allow PoE consumers to be connected to conventional non-PoE switches.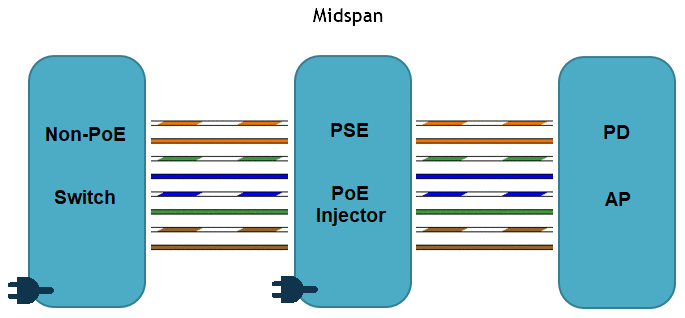 NOTE: Important! Using a PoE network switch in an Endspan configuration will provide a more reliable and convenient power supply, adding fewer potential points of failure and complexity than a Midspan configuration.
The power supply will only supply power to the cable if the device being connected supports PoE technology. So, non-PoE equipment that is accidentally plugged into a powered device will not be damaged.
The Midspan configuration can be used when replacing a non-PoE switch is not desirable, and you only need to add power to the network, typically with a PoE injector.
In addition, there are splitters - devices that are designed to connect regular network devices, without PoE support, to a PoE network. They separate the power and data coming over the same cable to two separate connectors, the RJ45 connector and the power connector.
The PoE injector and PoE splitter paired can be used to transmit power over Ethernet in a conventional network without PoE-enabled devices.
PoE devices are backwards compatible - the more powerful 802.3bt power supply can be used for PoE and PoE+ consumers of previous 802.3af and 802.3at standards.
TIP: Help: Cable requirements

Use the twisted-pair cable of category 5e or higher to connect devices via PoE.
The conductors must be copper, not copper-plated, and at least 0.5 mm (24 AWG) thick. The resistance in the conductors must not exceed 9.38 Ω/100 m.
The maximum distance for PoE power over a twisted pair cable is limited to 100 m, as specified in the IEEE 802.3af/at standard. In practice, however, it is generally not recommended to use cables longer than 75 metres.
The IEEE 802.3af (PoE) standard provides two methods of twisted-pair cable transmission, called Type A and Type B:
Type A - the transmission of electricity and data is established over conductors 1, 2, 3, and 6. Conductors numbered 4, 5, 7, and 8 are not used.
Type B - cores 4, 5, 7, and 8 are used for the power supply. Data is transmitted over wires 1, 2, 3, and 6.
All PoE consumers and splitters can use both types; power supplies normally only support one.
The IEEE 802.3at (PoE+) standard only uses Type B. If you are using an eight-core or greater category 5e cable on your LAN, you don't need to worry about PoE type, as all PoE equipment will work with that type of cable.
The table below shows the characteristics of the 802.3af/at PoE standards.
Characteristic / Standard

IEEE 802.3af
(PoE)

IEEE 802.3at
(PoE+)

PSE output power [W]

15,4

30

Power at PD [W]

12,95

25,5

PSE output voltage [V]

44 - 57

50 - 57

Voltage at PD [V]

36 - 57

42,5 - 57

Maximum current in the pair [mA]

350

600

Maximum cable resistance [Ohm]

20 (for cat.3)

12.5 (for cat.5)

Power classes

0 - 3

0 - 4
TIP: Note: When selecting a PoE injector, ensure that it meets 802.3af/at standards and provides the correct wattage to power the access points (12 W for Orbiter Pro and 18 W for Voyager Pro). Do not use an injector that supports Passive PoE.

There is an alternative connection method called Passive PoE or Passive 24 V. This is a non-standard implementation of Power over Ethernet, in the form of an intermediate adapter kit (injector and splitter) that you can use to connect devices to equipment that does not support PoE. Passive PoE means that the device does not meet the 802.3af/at specifications and does not perform any power checks or support voltage negotiation when connected, which can damage any equipment that is not designed to receive passive PoE power.

For more information, with recommendations for positioning these access points, see the Voyager/Orbiter Pro Antenna Diagram article.