You can add a phone station feature to any compatible Keenetic with a USB port by using the Keenetic Linear analog telephone adapter. This adapter is connected to a USB port of the router and is controlled by its operating system. Analog phones connected to the phone ports turn into IP phones that can be connected to cloud PBX operators via SIP protocol to provide your home or business with telephony without extra equipment, wires and regardless of geographical location.
With Keenetic Linear, a Keenetic router allows small and medium-sized businesses to connect remote offices, retail stores and employees working from home to the Internet, give them secure access to corporate network resources and set up cloud-based PBX phone service.
For home users, Keenetic Linear will help you connect a landline number and make calls at the best rates. With up to ten phone lines from multiple providers and flexible call routing rules, every outgoing call can be automatically routed through the lowest-priced line.
To take full advantage of the telephony features, upgrade your KeeneticOS to version 3.7.1 or later and install the 'Keenetic Phone Station' system component. You can do this on the 'General system settings' page under 'KeeneticOS update and component options' by clicking 'Component options'.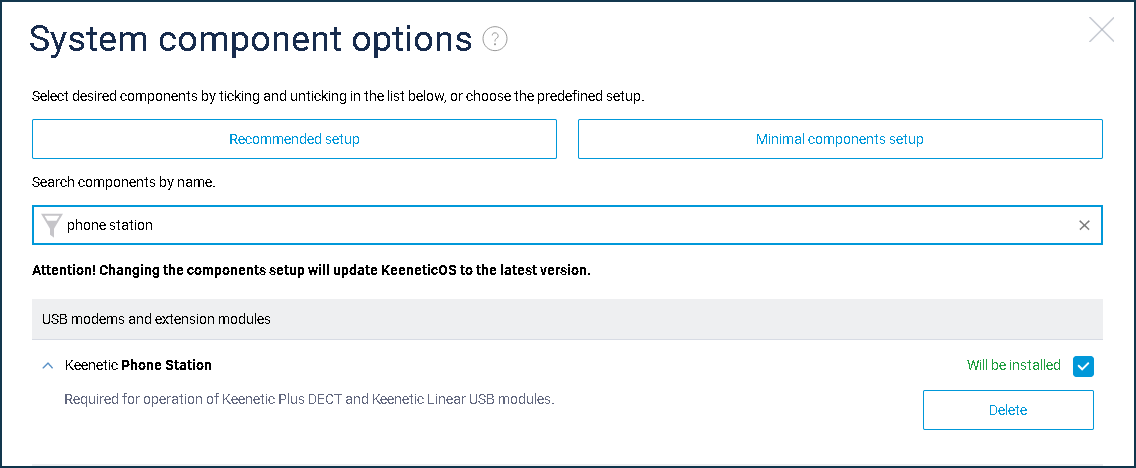 Then connect the Keenetic Linear analog telephone adapter to a USB port of your router and connect one or two phones to its phone ports.
The configuration of your Keenetic telephone exchange is described in the following articles:

Keenetic routers compatible with Keenetic Linear
KN-1010

KN-1711

KN-1810

KN-1910

KN-2111

KN-2310/2311

KN-2410

KN-2510

KN-3810