The printer is connected to a USB port on the Keenetic router. Printing from a computer works normally. Is it possible to set up printing from mobile devices (smartphone, tablet) within the home network?
---
NOTE: Important! This question relates exclusively to the settings of the mobile device and its apps.
As the USB printer is detected by the router and printing from your computer works, you only need to set up your mobile device. This option must be implemented in the operating system of the mobile device (Android, iOS, Windows Phone) or with a special app for your gadget. In general, printing from mobile devices is possible in different ways: through Wi-Fi Direct or Bluetooth, via a computer or an Internet cloud, and other options that depend on the type of printer, connection method, and location. More information on how to print from a mobile device can be found online.
Keenetic routers equipped with a USB port and a print server support network printing to a compatible printer. To do this, connect your home printer to the router's USB port.
Next, we will look at an example where a USB printer is connected to a Keenetic router, and printing will be done from the mobile device via Wi-Fi. Please note that the mobile device must be connected to the router's Wi-Fi network.
Connecting a printer via a USB port to your Keenetic router may work via JetDirect or CIFS, which depends on the type of printer to be connected to. Use the 'Direct' connection type. If your default connection type was CIFS when you connected your printer to the router, manually set the 'Connection Type' to 'Direct'. You can do this in the router's web interface on the 'Applications' page under 'Drives and Printers' by clicking on the entry for the connected printer.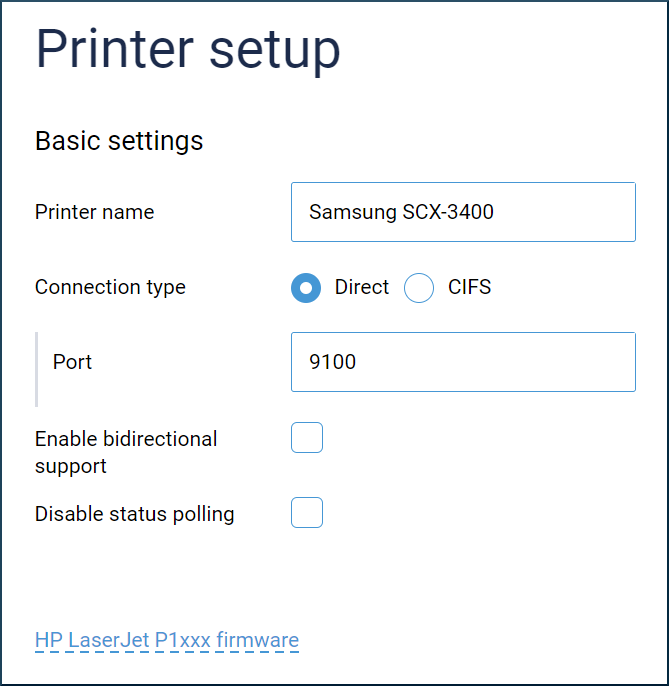 If you have changed the connection type from 'CIFS' to 'Direct', you must re-add the printer to the computer. For more information, see Connecting a printer in Direct mode.
NOTE: Important! Before printing from your mobile device, ensure that printing from a computer on your home network works correctly. The printer must be detected on the router and READY. If the printer is not detected or does not go to the READY status, refer to the article The USB printer connected to the router is not printing. Troubleshooting and guidance.
You can find special apps for mobile printing in Google Play, App Store and Windows Store.
NOTE: Important! There are both paid versions of applications that enable printing from mobile devices and free versions that are usually limited to printing a few pages, documents or just one test page. There are no limitations in the paid versions.
Mobile printing applications are available from both printer manufacturers and third-party developers.
Use applications that support JetDirect/RAW printing (printing is done over IP via TCP port 9100 by default).
Not all applications from printer manufacturers are JetDirect/RAW capable. We cannot check all mobile apps for JetDirect/RAW support, but there are some, for example, Samsung Mobile Print, OKI Mobile Print, and Kyocera Print.
As for third-party applications, examples include PrintHand (Android, iOS, Windows), PrintBot (Android), and Let's Print Droid (Android).
Refer to Printing to a printer connected to Keenetic from an Android mobile device. This is an example of how to set up printing from an Android smartphone using the PrintHand app to an HP LaserJet 3055 printer connected to a Keenetic router via JetDirect.
Normally, setting up the mobile application involves specifying the correct protocol (in this case JetDirect/RAW), the port number (TCP port 9100 is the default, but this can be changed if required), the IP address of the router (print server) and select the correct printer model (this is necessary to install and use a compatible printer driver for your printer). If your printer model is not on the suggested list of printers, you can try specifying a compatible printer model by series or number (for example, HP DeskJet Ink Advantage 1115 can be replaced with HP DeskJet 1100).
Examples of app settings: