If you plan to connect several USB devices to your router simultaneously (these can be storage devices, modems, printers and various combinations of them), then the preferred option is to use a Keenetic model with two USB ports to connect devices directly to the router.
But if you have already purchased Keenetic with one USB port and you need to connect several devices, you can use a USB hub with its own power supply. This device is also called an 'active hub' or a hub with an external power supply. If you use a passive hub (without an external adapter), the power on the router's USB port may not be enough to properly work with two devices because the power on one USB port (2.0 or 3.0) of Keenetic is limited to 1A.
Keep in mind that the USB device may draw significantly more power if used intensively. It is recommended to use a hub whose power adapter supports at least 2 Amps.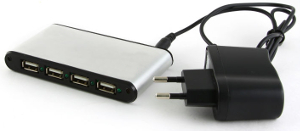 NOTE: Important! When a 3G/4G USB modem is connected to the Keenetic router via a USB hub, the automatic USB modem power reset function may not work on the router. When triggered, it will disable not only the USB modem but also other USB devices, because they are connected to the same USB port on the router.

Keenetic Launcher (KN-1210) has a USB port exclusively for 3G/4G compatible USB modems. USB storage devices and printers are not supported in this model.