Keenetic Air (KN-1610) and Lite (KN-1310) models have a special 4-position hardware switch on the back of the device. It is used to select the operating mode. For other Keenetic models, you can change the operation mode in the web configurator.

A — Router mode
B — Wi-Fi adapter for wired devices
C — Wi-Fi repeater
D — Wi-Fi access point
All you have to do is move the switch to the desired mode and wait for your Keenetic to reboot.
Detailed description of all 4 modes you may find in the article 'System operating modes'.
NOTE: Important! When you switch to additional operating mode (Adapter, Repeater or Access Point), the web configurator of your Keenetic will not be available at the same address (192.168.1.1 or my.keenetic.net).
Below we will show you how to access the web configurator of a Keenetic in additional operating mode.
NOTE: Important! For all additional modes to work properly, it is required that a DHCP server is running in the network to which Keenetic will be connected. This means that the main router should automatically assign IP addresses to client devices in the network.
After switching to additional mode, the web configurator of your Keenetic will be available via the new IP address assigned by the main router and shown in the main router's web configurator.
In Keenetics in 'Router' mode, you can view clients IP addresses in the web configurator, on the 'Device Lists' page. For example: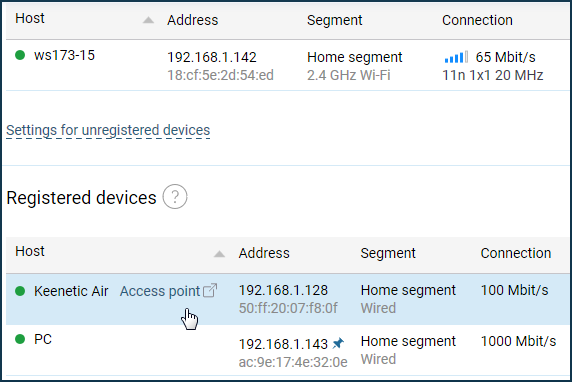 In our example, a Keenetic device in the 'Access Point' mode received an IP address of 192.168.1.128 from the main router. This IP address will be used to access it from the local network. Then you can enter its web interface and make additional settings, for example, change the name of the Wi-Fi network or its channel.
If the DHCP server is turned off on the main router of your network, you should use the static IP address 192.168.1.3. This is a temporary service IP address, which is preset in Keenetic just for those cases when you want to connect to the web interface, but the device didn't obtain an IP address in the network.
On a computer in the network connection settings, manually set the IP address to 192.168.1.4 ~ 192.168.1.254 with the mask 255.255.255.0 (in our example we set the IP address to 192.168.1.30).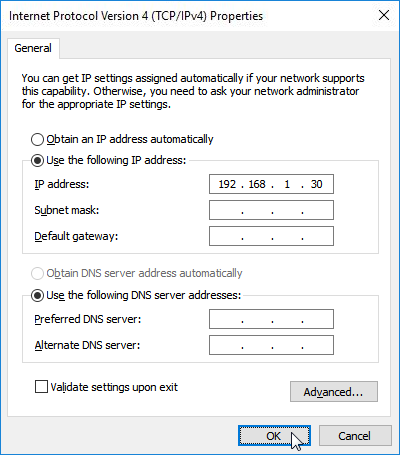 Then enter the IP address 192.168.1.3 in your Internet browser to access the device's web configurator.

If the above settings are made correctly, you will see the Keenetic web configurator, which works in one of the additional modes.