Schedules allows you not only control access of the homenetwork devices, but also manage Internet connections (cable, wireless, VPN). You can schedule wired (IPoE) and wireless connections (2.4 GHz/5GHz Wireless network, 2.4 GHz Guest network, Wireless ISP), 3G/4G modem connections, and VPN connections (PPTP, L2TP, L2TP/IPsec, SSTP, OpenVPN) to be turned on/off.
For example, there is a task to turn off the Wi-Fi access point at night and turn it back on only in the morning. To do this, you need to create a schedule in the wireless settings on the 'Home segment' page. Click on 'Additional settings' in 'Wireless Network' section. Choose 'Work schedule' - 'Add schedule' there.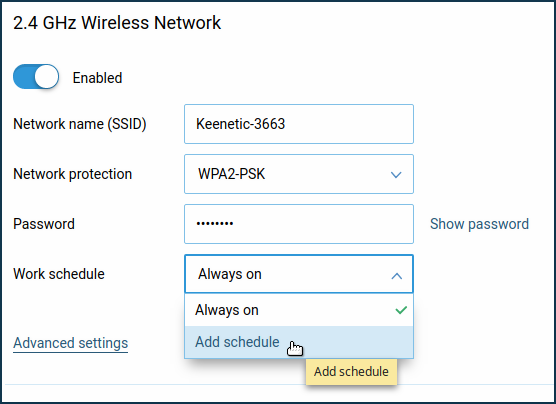 In schedule editor set the name of the schedule in the appropriate field (for example, wifi).
Next, select the areas that correspond to the working time, and leave the non-working hours unpainted (for example, every day from 8-00 to 23-00).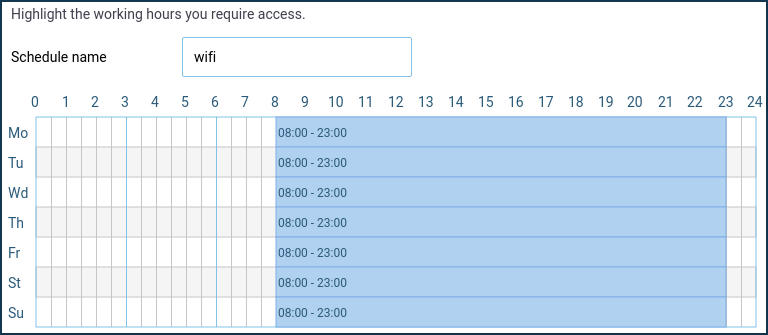 As a result, the Wi-Fi hotspot will work daily from 8 am to 23 pm. The rest of the time, it will not be available when searching for wireless networks from your mobile device (the Wi-Fi LED on your Keenetic will be off).
Similarly, you can set up a schedule for VPN connections (PPTP, L2TP, L2TP/IPsec, SSTP, OpenVPN), Wireless ISP, IPoE, and 3G/4G modem connections.