With a Keenetic router, you can connect to a public VPN service, office network, or other Keenetic through any Internet connection. Some ISPs provide access to the Internet using VPN technology.
In terms of compatibility, you can connect via PPTP, OpenVPN, L2TP/IPsec (L2TP over IPsec), SSTP, or IPsec client from any Keenetic router.
Having such a universal VPN client is especially useful if there is no public IP address on one side of the network connection (for example, to access the country house from your apartment).
In addition to the VPN client function, any, even the entry-level Keenetic model, has similar VPN servers in its arsenal: PPTP, OpenVPN, L2TP/IPsec, SSTP, IPsec (Virtual IP).
You can configure VPN connections to remote networks and VPN servers on the' Other connections' page.
1. In the 'VPN Connections' section, click 'Create connection'.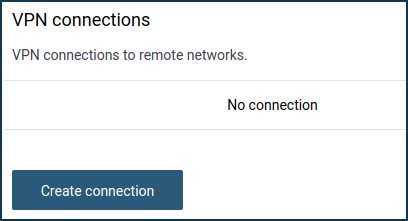 In the 'VPN connection settings' window, select the required protocol in the 'Type' field and then configure the connection.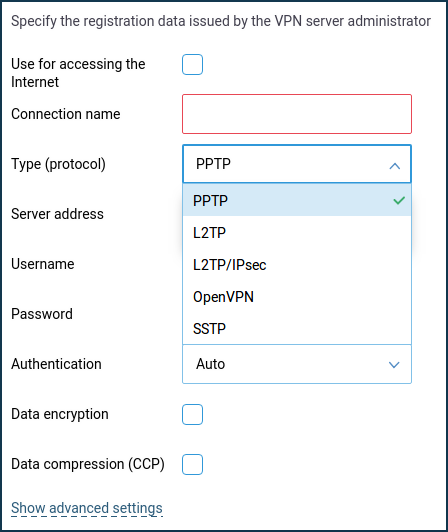 Detailed information on how to set up connections can be found in the articles:
TIP: Tip: If you want to use the newly created connection to access the Internet, set the highest priority to this connection. You will find information about the priorities in the Connection priorities article.
2. To create an IPsec VPN in the 'IPsec connections' section, click 'Create connection'.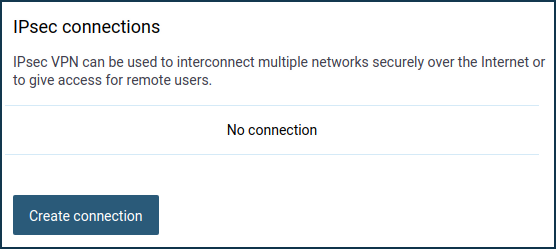 Then specify connection parameters in the 'IPsec connection setup' window.
An example of how to interconnect two local networks over the Internet via IPsec can be found in the article IPsec VPN site-to-site.