Some models of Keenetic are equipped with USB-connectors which you can use to connect external drives with USB interface (it can be flash drives, external hard drives HDD and SSD).
NOTE: Important!

1. We recommend that you backup important files to avoid data loss.

2. There is no hardware or software restrictions about simultaneous connect of several number USB drives. To connect multiple drives to a single USB port, we recommend using an active USB hub with its own power supply.

3. The Keenetic 4G is equipped with a USB connector for connecting compatible 3G/4G USB modems. USB drive connection is not supported in this model.

4. We can not guarantee the correct operation of external hard drives without external (additional) power when connected to the router.
You can share a connected drive with users of your Windows or Apple network.
By connecting a USB hard drive, you can use the built-in Torrent client (for file-sharing network) and assign duty to download torrents to the router and distribute them around the clock, without loading your computer or, especially, tablets and smartphones with this task . You can manage tasks both on your home network and over the Internet.
You can organize a DLNA media server to view media content on smart TVs, network media centers and media players (the latter are increasingly smartphones and tablets).
In addition, you can enable the FTP server to access files on USB drives via FTP (with the ability to access from the Internet).
In this article, we will look at an example of connecting a USB drive to an router and organizing network access to the drive resources for all users of the Windows home network.
The router can work with standard Microsoft Windows file systems NTFS, FAT32 and FAT, with file systems used in Linux – EXT2, EXT3 and EXT4, as well as with the MAC OS file system – HFS Plus.
1. Before connecting the USB flash drive to the Internet hub, make sure that the system components required to work with the USB flash drive are installed on the device. This can be done on 'General system settings' page in 'Updates and Component Options' section by clicking 'Component options'.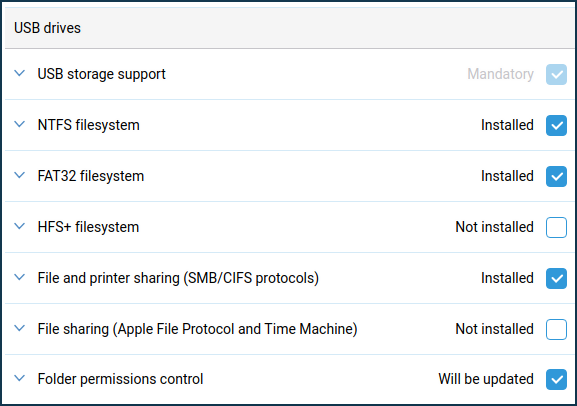 In particular, when connecting a USB drive with an NTFS file system, the NTFS File system component must be installed, and when connecting a USB drive with a FAT32 file system, the FAT32 file system component must be installed.
'Folder permissions control' component allows you to set permissions for individual directories located on USB-drive, while the 'File and printer sharing (SMB/CIFS)' component provides an access to USB-drives and printers for PCs with Windows OS.
2. Connect the USB-drive to USB-port of the router. Keenetic will automatically recognize and install compatible storage. If storage contains volumes, they will be mounted automatically.
Make sure, that USB-storage have been detected by system. On 'USB drivers and printers' dashboard of the 'System dashboard' page you should see a record of the connected drive.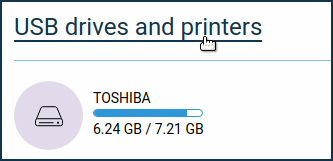 Click on 'USB drives and printers' to go to the 'Applications' page. Here you will see 'Windows network' dashboard. Windows network server is enabled by default. Operation system of the router supports CIFS/SMB (SMB v1/2/3) protocols. Click 'Windows network' to configure file server and to share folders.
3. In 'Basic settings' option 'Auto-mount of new USB drives' is enabled by default. This means that the new-plugged drive will be automatically added to the system. You can change server's name in 'Server name' field, which is serve to identify router in local network (NetBIOS-name). If you want the router to be visible in Network environment, you need to specify the group name to which all other PC's belong in the 'Workgroup' field.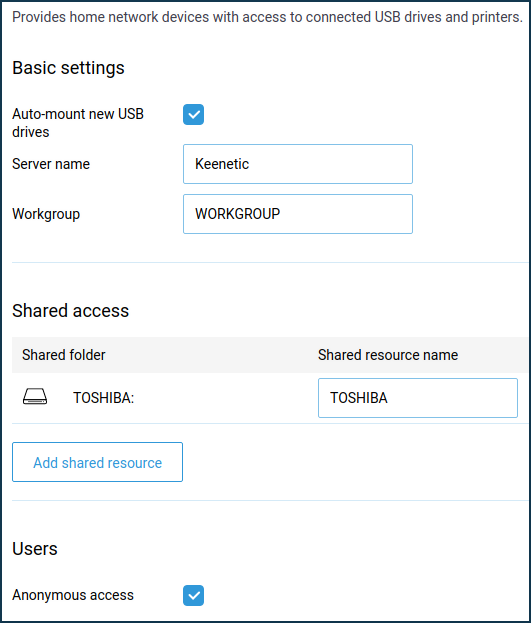 To add and configure shared folder click on 'Add shared resource'. A window opens with a built-in file browser, where you have to specify certain folder on USB-drive, which will be shared and then click the 'Select' button. In our example, we selected the root directory to provide access to all folders on the drive.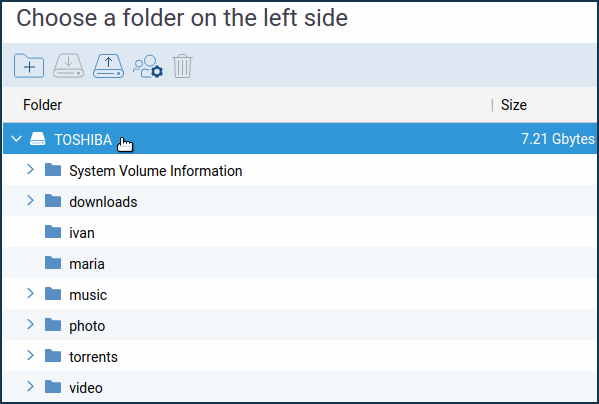 After selection of the shared folder you then again go back to the 'Windows network' page. Name of the shared folder will be displayed automatically in 'Shared resource name' block, but you can set it's name manually.
The 'Anonymous access' option (access without authorization) is enabled by default in the 'Users' section. Access to the file server from computers and mobile devices running Android, Microsoft Windows, Apple OS X, and iOS is open by default to all users of the home network without authorization. You can change this setting and besides you can add 'Folder permission control' component to restrict user's access to folders. Additional info you can find in the article Folder permissions control on a USB drive.
Here we finish the configuration of router.
Now homenetwork users can access shared folders of the USB-storage, connected to Keenetic. You can use the local IP address of the router (by default \\192.168.1.1) or its NetBIOS name (the name specified in the 'Server Name' field) for access.
4. Below is an example of configuring the network access to USB-storage from Windows. Click the 'Run' from main menu or open the 'Explorer' file manager. Type the network name of the Keenetic in address bar, typing \\ in the beginning (in our example it's \\Keenetic). You can use name \\my.keenetic.net or local IP-address \\192.168.1.1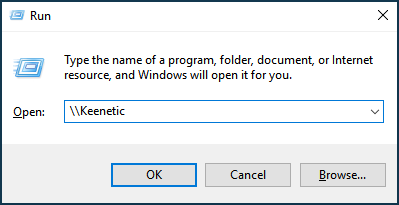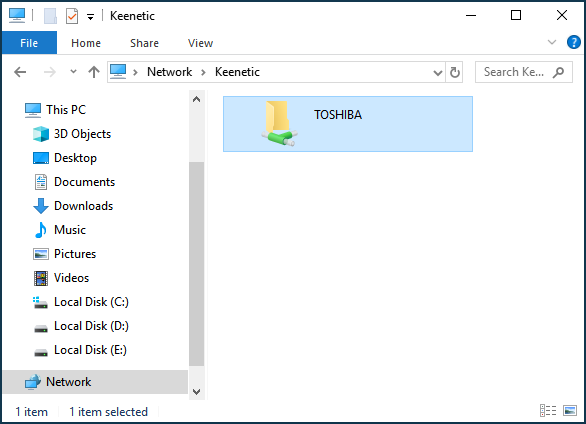 If the router is in the same workgroup as other computers on your home network, you can access the USB drive through your 'Network neighborhood' (Network).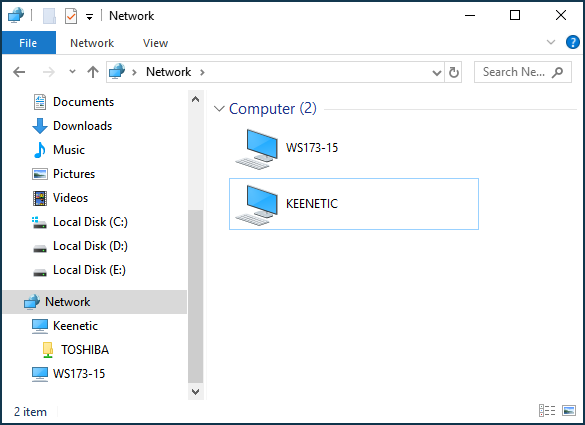 We looked at the simplest example of connecting a USB drive to the Keenetic and organization of network access (without authorization) to the resources of the drive for all users of the Windows home network. If you need to set up network access to specific folders or share access between individual users (for example, so that users can view the contents of the entire drive, but edit and create files only in their personal folder), see the article 'Folder permissions control on a USB drive'.
NOTE: Important! To avoid data damage on USB drive, please follow next recommendations:

Do not use flash drives for downloading torrents.

Do not remove the USB drive during use. Before removing the USB drive press the FN burron and wait until corresponding FN indicator is off.

Or disconnect the USB drive via web interface. On 'Applicatons' page in 'USB drives and printers' section click 'Disconnect' in the list of connected devices.

If the drive lacks power from the USB port and is disconnected during heavy use, connect it via the USB hub with an external power supply.