Q: My Keenetic router in Extender Mode or Access Point/Extender Mode is connected to another manufacturer's router. I need to connect to the Keenetic web interface to change some settings, but I don't know its IP address. There is no access to the main router's settings, so I can't check it there. How do I find out the Keenetic router's IP address in this situation?
A: In all additional modes, the web interface of the Keenetic router will be accessible by the IP address obtained automatically via DHCP from the main router. This IP address can be viewed in the web interface of the main router.
TIP: Tip: When Keenetic is not connected to the network in an additional mode, or the DHCP server is switched off on the main router, you should use the static IP address 192.168.1.3 to access the web interface. This temporary service IP address is preset in Keenetic for such cases when the device has not been assigned an IP address in the network, but you need to connect to its web interface. Please refer to the instructions for more information: Accessing the web interface of a Keenetic operating in one of the additional modes.
If you don't have access to the web interface of the main router, you can find the IP address of Keenetic using any app that scans and identifies devices connected to your local network. There is a wide range of such applications for both PCs and mobile devices. We will show you an example of the Advanced IP Scanner application.
Install the app on your home computer. Connect the computer to the main router's network via wire or Wi-Fi.
Launch the app and press the 'Scan' button to search for local network devices.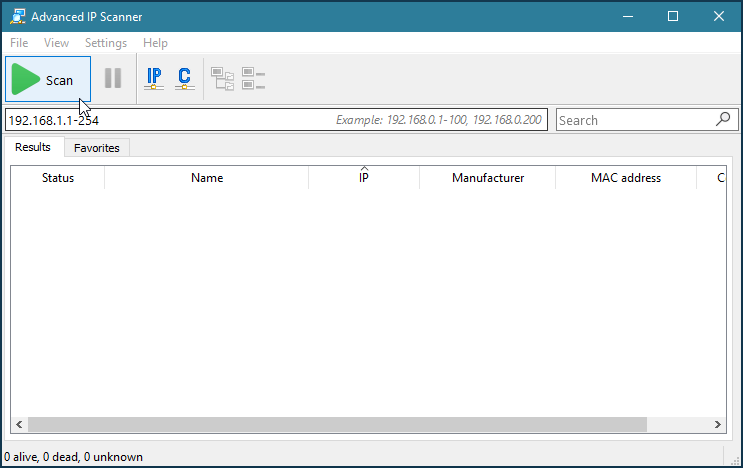 After performing a local IP range scan, the application will show the detected active network devices in the 'Results' tab. For Keenetic, the 'Manufacturer' column will show 'Keenetic Limited', and the 'IP' column will show the router's local address on the network. In our example, Keenetic has an IP address of 192.168.1.104.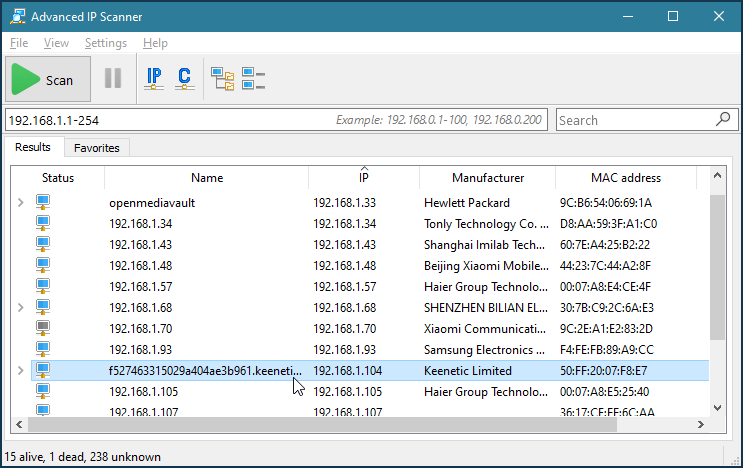 Now connect from your browser to the web interface using the correct Keenetic's IP address.