In Keenetic routers, an upgrade of the built-in KeeneticOS (operating system/firmware) can be performed automatically, without any user involvement. On the 'General system settings' page, in the 'Updates and component options' section, the 'KeeneticOS automatic updates' option is enabled by default.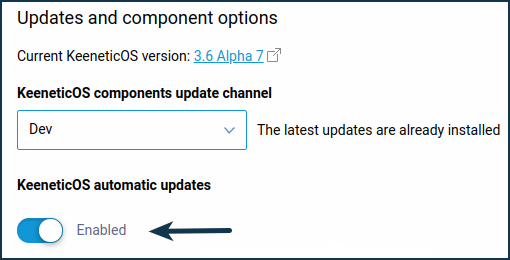 When the automatic update is enabled, the Keenetic router will automatically perform an update without any notification, and this can happen any time. Starting from KeeneticOS 3.3 Beta 3, it is possible to set a schedule for automatic updates of the operating system. In this case, the auto-update will take place within the specified time period. The default setting is 'At any time'.

NOTE: Important! Commonly, auto-update on our server is not started immediately after release. This can happen after a fairly long time and depends on the server load and the number of devices being updated. The frequency of auto-updates is usually about 6 times per year.

The purpose of auto-update is not that all Keenetic devices quickly get a new version of the software as soon as it is released. Still, those devices do not stay on older versions of the operating system, which may have vulnerabilities fixed in newer versions.

After downloading and installing an update, the router will automatically reboot. If important tasks are being performed on (or through) Keenetic and a forced update or accidental reboot are undesirable, disable the 'KeeneticOS automatic updates' option. In this case, we recommend that you check for new updates on the the 'System dashboard' start page yourself and install them by clicking the 'Install the update' button.
To learn more about KeeneticOS update options, see the article Updating KeeneticOS online.