In Keenetic routers, an upgrade of the built-in KeeneticOS (operating system/firmware) can be performed automatically, without any user involvement. On the 'General system settings' page, in the 'Updates and component options' section, the 'KeeneticOS automatic updates' option is enabled by default.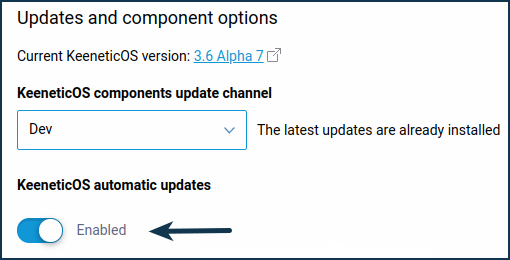 When the automatic update is enabled, the Keenetic router will automatically perform an update without any notification, which can happen at any time. This time is determined by our update server, depending, among other things, on the load on the server.
It is also possible to set a schedule for automatic updates of the operating system. In this case, the auto-update will take place within the specified time period. The default setting is 'At any time'.
When adding a schedule, highlight the areas corresponding to the schedule's operating hours (the time at which auto-update will be allowed), and leave the non-operating hours uncoloured. In our example, in the screenshot above, the area from 01:30 to 05:00 is highlighted for auto-update.
NOTE: Important! Commonly, auto-update on our server is not started immediately after release. Usually, it takes some time (about 1-2 weeks), and only after making sure the release is stable, the auto-update mechanism is activated on our server. Only then will the release be available for auto-update to devices with this feature enabled. It is up to Keenetic to decide for which release auto-update will be allowed.

Automatic updates to KeeneticOS happen gradually. New versions can be installed on all Keenetic devices within a few weeks of release. However, it is also possible for auto-updates to occur long after a new version has been released, depending on server load and the number of devices being updated, among other things. Typically the frequency of stable release auto-updates is around 6 times a year.

The purpose of the auto-update is not to ensure that all devices get a new OS version as quickly as possible when it is released, but to ensure that devices are not left on old versions of the operating system and that the update is done automatically, without user involvement.

After downloading and installing an update, the router will automatically reboot. If important tasks are being performed on (or through) Keenetic and a forced update or accidental reboot are undesirable, disable the 'KeeneticOS automatic updates' option.

If you want to get updates as soon as possible, turn off the auto-update function and check periodically for new updates on the 'System dashboard' page yourself and install them by clicking the 'Install the update' button.

Important! Automatic update of your router will not work if the device reboots, shuts down or loses connection to our server more than once a day. In this case the server will consider that Internet connection is unstable and will not perform auto update for such a device.
TIP: Note: The KeeneticOS update process is optimized to run in the background to minimize system downtime. Keenetic routers have dual flash memory with active and backup KeeneticOS images to ensure trouble-free automatic updates. When a new version of the operating system is released, the device will first download, save, and verify the integrity of the KeenetiOS image in the backup section without interrupting the main operation. The Keenetic device will then reboot with the updated version of KeeneticOS. Internet access will only be briefly interrupted while your device reboots.
TIP: Note: There are 3 KeeneticOS update channels available:

— Official release: Updates in this channel have been fully tested and recommended for installation to all users. Official releases are published about every two months.
— Preview version: By choosing this channel, you can be one of the first to experience the latest updates, performance improvements and new features with minimal risk. Preview versions are released twice a month.
— Dev build: The test channel is updated weekly and shows our community what we are working on right now. Test builds may contain errors.

Important: Be careful when installing Dev builds! When using the Developer channel, it is recommended to make a backup copy of the current router configuration by saving the startup-config.txt file and the KeeneticOS image file with the current set of operating system components installed on your Keenetic router. This will allow you to quickly restore the device configuration to its previous state if necessary. Refer to the Updating KeeneticOS by a system file article.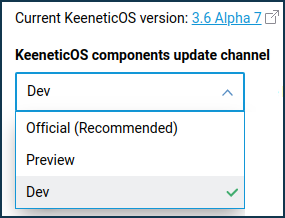 By selecting the KeeneticOS update channel and enabling the 'KeeneticOS automatic updates' option, you can only receive auto-updates from a specific channel.