You can select a KeeneticOS update channel in the router's web interface. For example, you can install the Developer version of KeeneticOS.
A Dev build is a draft version of the operating system. It replicates the functionality found in the officially released Main or Preview versions and contains additional fixes and new features. The Dev channel is usually updated weekly (release is possible at any time, depending on internal needs), and an automatic update option is also enabled.
NOTE: Important! The Dev build is under development and may contain bugs. The functionality of these versions shows our community what we are working on right now. All questions about the Dev build are answered on the developer's forum, Keenetic Community. Official technical support is only available for software from the Main and Preview channels. Dev builds are only supported on the developer forum.

Important! Be careful when installing Dev builds! Before installing the KeeneticOS version from the Developer channel, we recommend you back up the current router configuration by saving the startup-config.txt file and the system firmware file with the current set of operating system components installed on your router. This will allow you to quickly restore the router configuration to its previous state if needed. Refer to the Updating KeeneticOS by a system file.
NOTE: Important! To update KeeneticOS, you must have an established Internet connection.
Go to the 'General system settings' page and select the KeeneticOS update channel 'Dev'.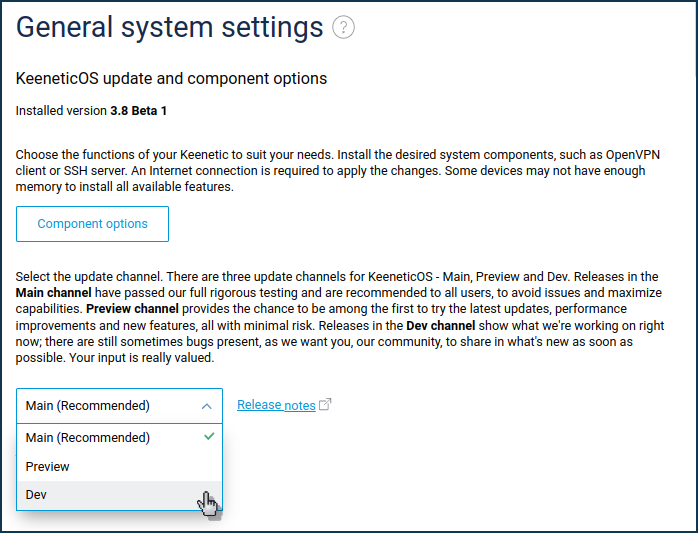 The message 'The selected KeeneticOS upgrade channel is less stable than your current channel. Are you sure you want to change the channel?' will appear. Click 'Confirm' to continue.
Then click 'Install the update' to update the router's built-in operating system.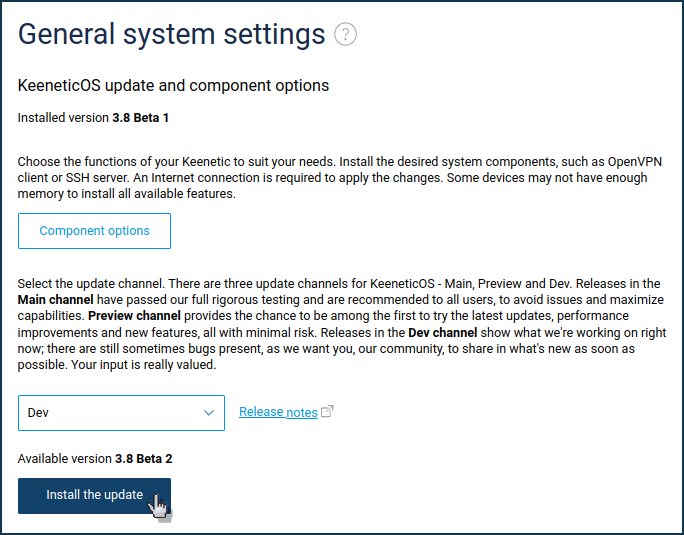 An information window will appear with the message 'Back up the operating system and configuration files to use if you ever decide to restore to the current state'. Click on 'Back up now' to save the startup-config.txt file and the KeeneticOS firmware.bin (router OS) image.

The message 'Allow KeeneticOS and system configuration files to finish downloading. The device will reboot after the updates'. Click 'Confirm'.

The KeeneticOS firmware update process will start.
NOTE: Important! Do not switch off the router until the update process is complete.


After the firmware update, the router will automatically reboot and be ready to work again.
To access the web interface, refresh the page in your web browser.
Then check the current firmware version on the 'System dashboard' start page under 'About the system'. This is indicated in the 'OS version' field.
TIP: Tip: If, for some reason, you are unable to update your router's operating system, refer to the article Frequently asked questions on component installation and updating KeeneticOS.