Free Yandex.DNS Internet safety service restricts access to malicious sites and resources that are not suitable for children viewing. This service is conveniently integrated into Keenetic routers, allowing the owner to protect either all home devices at once or choose filtering for them separately through easy-to-understand ready-made profiles.
The Yandex.DNS service is a separate component of the KeeneticOS operating system. A user can add or remove this Internet filter from the system and turn it on or off entirely without affecting the Internet connection parameters: Yandex.DNS will work behind any NATs and with any frequently changing dynamic address.
Yandex.DNS has four profiles, which filter access to a particular category of sites:
'No protection' is the entirely transparent profile with no traffic filtering and all requests fulfilled by the provider's DNS servers;
'Fast DNS' is the entirely transparent profile with no traffic filtering, and all requests fulfilled by the fast and reliable Yandex DNS-servers instead of the provider's DNS servers;
'Secured' profile protects from malicious and fraudulent sites, blocks resources containing viruses and phishing;
'Family-friendly' profile restricts access to both dangerous and adult sites with pornographic content.
More information about Yandex.DNS service and filtering categories you can find at dns.yandex.com or in Yandex support.
NOTE: Important! The simultaneous use of multiple different content filtering services is impossible.
Before setting up the Internet filter, register your devices according to the instruction 'Connected device registration.'
Now select 'Yandex.DNS' in the 'Service' field on the 'Internet safety' page.

The section 'Assignment of protection policies to devices' appears. Configuration in this section involves assigning the policies mentioned earlier to devices in your home network (registered on your Keenetic) and those that appear periodically (Guest segment and unregistered devices).
The example below shows the 'Family-friendly' profile assigned to two registered devices and the 'Secured' profile to all other devices.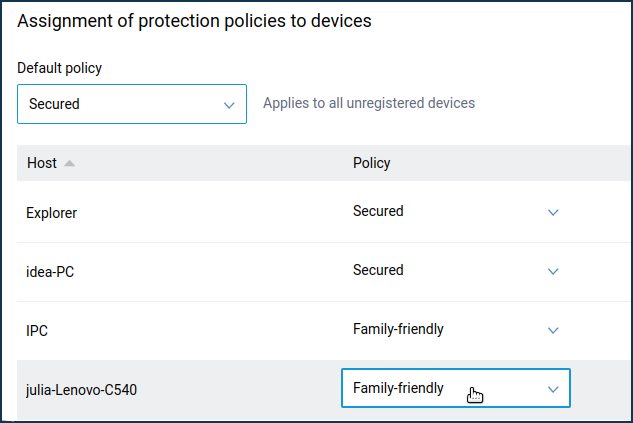 In the 'Default policy' field, you can specify a policy applied to all unregistered devices, including those connected to the guest network.
From a registered device through a web browser, we will try to access a resource that may contain prohibited content: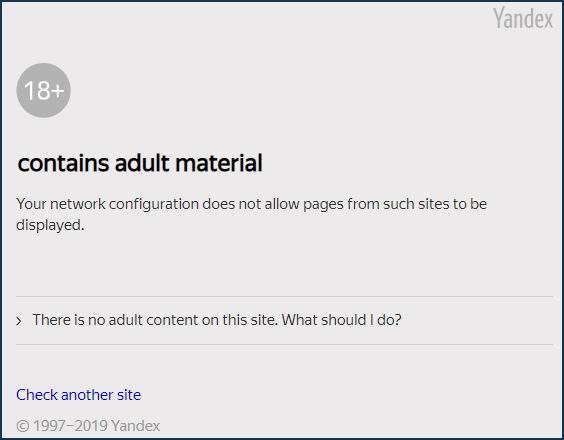 Access to this resource will be blocked, and the corresponding message will be displayed.
TIP: Note: Currently, Internet safety services do not support the IPv6 protocol. If the 'IPv6' component is installed, individual protection policies will not work. If, for some reason, the site filtering doesn't work after you turn on the Internet safety service, check whether the 'IPv6' component is installed in the Keenetic's operating system. If you are not using an IPv6 connection, remove this component to make the Internet safety service work properly. Later on, the support for the IPv6 protocol will be improved.